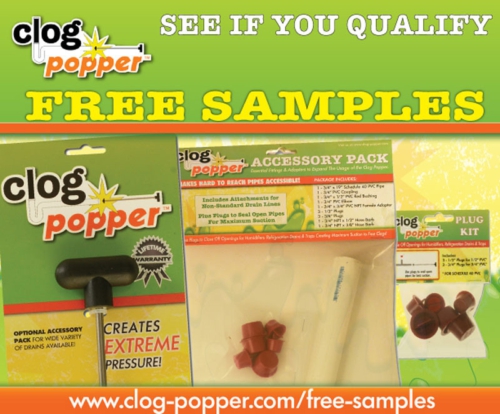 CINCINNATI, Ohio — Good Day Tools recently announced the introduction of its new Clog Popper product. They have received tremendous response, and now they seek to get free samples in the hands of HVAC equipment distributors and supply houses so they can try the product, demonstrate it to customers, and begin selling it.
"We're bypassing conventional methods of getting the product into stores for resell, and we aim to speed up the process by giving qualifying stores free inventory from our entire Clog Popper product line. It is our goal to satisfy every qualifying request," says Matt McFarland , co-owner of Good Day Tools. This offer includes samples for resell, demo kits for promotion and research and marketing materials, and it applies to HVACR supply stores, retail stores, distributors and manufacturer's representatives.
Good Day Tools will let qualifying resellers take 100 percent of the cash gained from the sale of any of the samples as long as a diligent effort is made to sell the free products given them. Anyone interested is encouraged to fill out and submit the form at www.clog-popper.com/free-samples, after which the company will call to discuss details.
The Clog Popper is a new hand-operated tool developed by Good Day Tools to clear clogged air conditioning and refrigeration condensate drain lines. Much like with a plunger, you simply insert the Clog Popper into the pipe to be cleared and then quickly remove with a pull of the hand. This creates a vacuum in front of the clog, and the pressure differential forces the clog out and allows water to run freely out of the pipe. The device is designed for 3/4-inch schedule 40 PVC pipe, a standard size in air conditioners, but it adjusts to fit other sizes. The optional accessory pack comes with fittings, adapters and plugs that allow the Clog Popper to work with virtually all configurations and sizes of condensate drain lines.
The Clog Popper sells for just under $20, and it comes with a lifetime warranty. For more information , visit www.clog-popper.com.