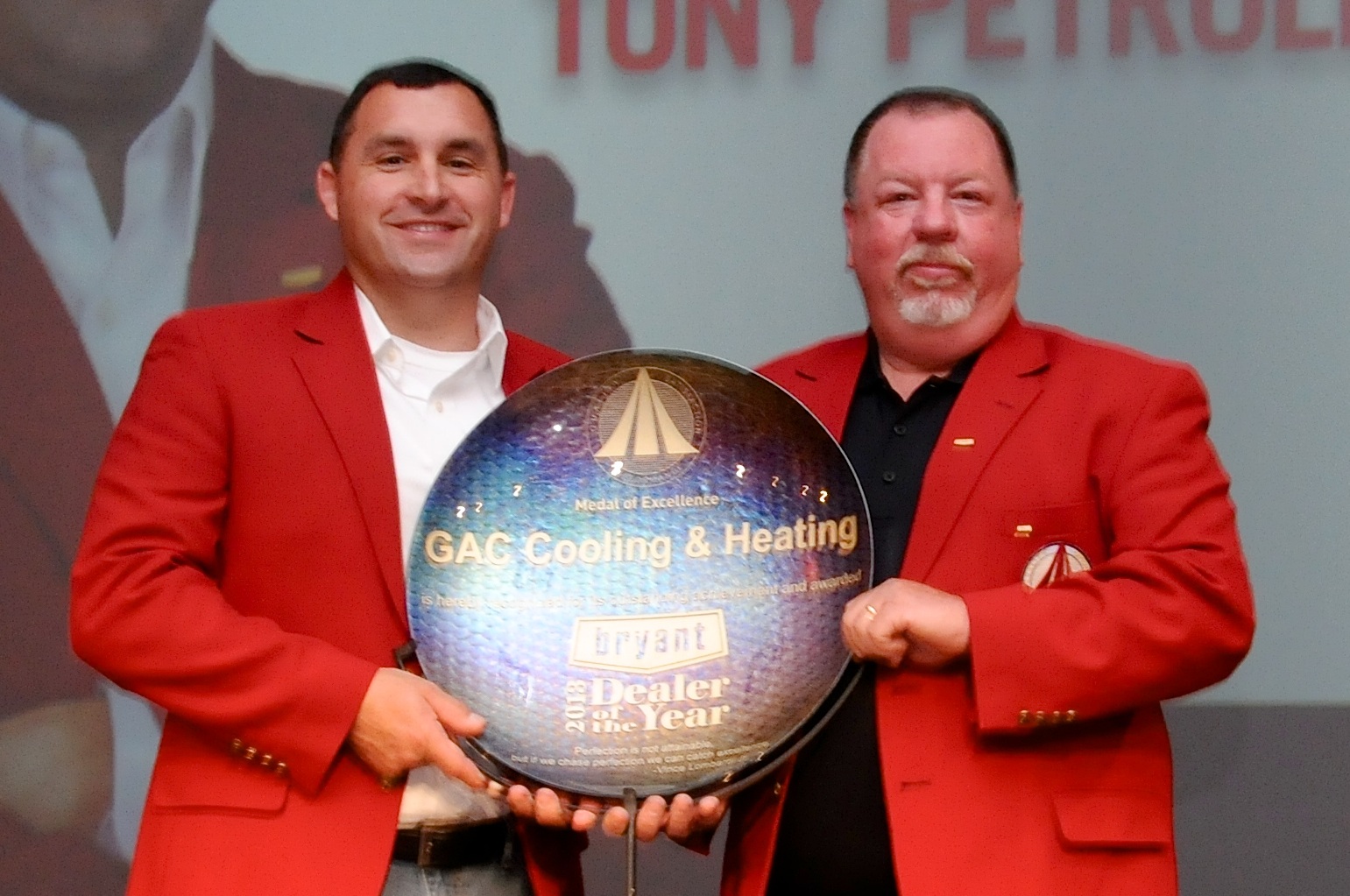 INDIANAPOLIS, Ind. – Bryant Heating & Cooling Systems, a supplier of heating, ventilation and air conditioning equipment, has named GAC Cooling and Heating as the 2013 Bryant Dealer of the Year. Bryant is a part of UTC Climate, Controls & Security, a unit of United Technologies Corp. Based in Gaithersburg, Md., GAC Cooling and Heating is one of 15 Bryant dealers in the U.S. and Canada to be selected as a Medal of Excellence regional winner out of more than 4,000 Bryant dealers in North America. This is the seventh time the company has received the Bryant Medal of Excellence award, but this is its first Dealer of the Year honor. The organization was recognized with the Bryant Pinnacle Award after it earned its fifth Medal of Excellence in 2010. Medal of Excellence applicants are judged on customer satisfaction, overall Bryant branded product sales growth, high-efficiency and indoor air quality equipment sales growth and participation in various dealer programs and promotions.
The 15 regional winners come from five different geographic regions. Each region has three tiers of winners, which are based on total annual sales volume. Of the 15 Medal of Excellence winners, GAC Cooling and Heating stood out as truly embracing Bryant's 'Whatever  It Takes'
philosophy by providing outstanding quality, satisfaction and performance, thus earning the coveted distinction of Bryant Dealer of the Year.
"GAC Cooling and Heating has been a part of the Bryant family since 1978 and we can't think of a more deserving organization to name as the 2013 Bryant Dealer of the Year," said Lisa Townley, brand manager, Bryant. "Not only did GAC Cooling and Heating earn impeccable scores in this year's evaluation, they've also proven that they are an exemplary Bryant dealership over the years, earning the Medal of Excellence seven times. We're proud to be their business partner and to honor them with our highest award."
GAC Cooling and Heating, also known as Gaithersburg A/C & Heating, Inc., is owned and operated by Anthony Petrolle, Bill Wetzel and Richard Biava. The business has been professionally serving the residents of Montgomery and Frederick Counties in Maryland since 1970.  As a full service residential heating and air conditioning company, they provide installations, repairs, annual service and maintenance agreements.  GAC Cooling and Heating's skilled and honest technicians, and its philosophy of building long-term relationships, ensure an extremely high level of service. The knowledgeable staff at GAC Cooling and Heating is dedicated to providing exceptional customer service, including:
Twenty-seven service and install vehicles that are on the road all day, every day
Emergency service seven days a week
Seven full-time customer service representatives are on standby to assist customers quickly and efficiently
More than 80 percent of their 33 technicians are certified by North American Technician Excellence, Inc.
Support a number of local and national charities; most notably Rebuilding Together Montgomery County and Housing Unlimited, which provide affordable housing for the local elderly and disabled and ACCA's "Service for our Servicemen" project
"It's great to be recognized for the hard work that each member of our team has put in over the years to build our business into what it is today," said Petrolle. "To be recognized as Dealer of the Year is very satisfying and is a true testament to the dedication of the 53 people that come to work every day at GAC Cooling and Heating."
Photo caption: Tony Petrolle (left) and Randy Hamilton of GAC Cooling & Heating at the 2013 Bryant Dealer Rally accepting the award for Bryant Dealer of the Year.