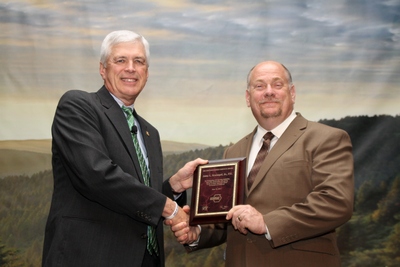 CINCINNATI, Ohio – John Kuempel Jr., P.E., vice president of DeBra-Kuempel, located in Cincinnati, Ohio, has been recognized with a Distinguished Service Award from ASHRAE.
DeBra-Kuempel provides commercial mechanical, electrical and plumbing services throughout the Cincinnati/Dayton and Northern Kentucky region.  The company is a subsidiary of EMCOR Group, Inc.
The Distinguished Service Award, which was presented at ASHRAE's 2013 Annual Conference in Denver, is given to individuals who have served the society faithfully and with distinction, and who have given freely of their time and talent on behalf of ASHRAE. The honor recognizes participation in chapter, regional and society activities.
"We are extremely pleased to see John recognized by his peers for his selfless and exemplary dedication to the engineering profession," said Joseph Clark, president and CEO of DeBra-Kuempel.  "He is a consummate professional, whose innovative thinking and hard work enable DeBra-Kuempel to deliver consistently reliable solutions to our customers every day."
"My experience as a design/build contractor with real world knowledge of building operation, renovation and maintenance has benefited the development of reasonable suggestions for guidelines," stated Kuempel.  "I feel strongly that sharing this knowledge with other engineers greatly benefits the entire industry and contributes to better performing and safer facilities."
Kuempel has been an active member of ASHRAE since 1991.  He serves on the organization's technical committee that establishes general design standards for the HVAC systems used in large buildings; he also serves on the subcommittee that oversees standards for central chilled water plants. On behalf of ASHRAE, he has coordinated, chaired and presented multiple seminars at society conferences. Kuempel often shares his experience in HVAC applications by showcasing case studies of real world projects, which provide a depth of opportunities to the practitioners in the audience.
Kuempel received a bachelor's degree in mechanical engineering from Cornell University and is a licensed professional engineer in Ohio and Kentucky.  In addition to ASHRAE, he is a member of the American Society of Mechanical Engineers, the Sheet Metal and Air Conditioning Contractors National Association, the Mechanical Contractors Association, the Plumbing-Heating-Cooling Contractors Association and the Association of Energy Engineers.
Photo Caption:  ASHRAE Presidential Member Tom Watson (left) presenting the Distinguished Service Award plaque to John Kuempel, vice president of DeBra-Kuempel,  at ASHRAE's 2013 Annual Conference in Denver, Colo.