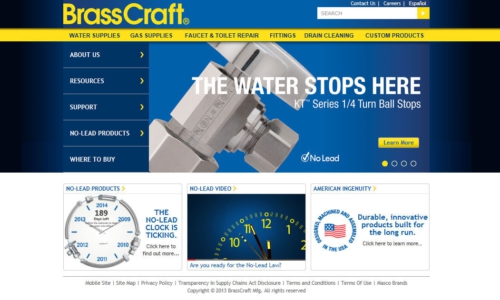 NOVI, Mich. — BrassCraft Manufacturing, a manufacturer of plumbing products, announced the unveiling of its redesigned corporate website, www.brasscraft.com. The site, which launched June 29, has been updated with a streamlined design intended to give customers the best user experience possible.
By offering a clean interface that includes updated graphics, photos and simplified navigation, the site serves as a destination for plumbers and wholesalers. Intuitively redesigned to effectively search product offerings, product information and corporate announcements, the website has been enhanced with richer content and greater functionality. An expanded product gallery provides users with access to the full line of BrassCraft products and complete catalogs.
"As the industry looks to us for plumbing solutions, we're constantly striving to innovate whether it's through our product or our communication," says Marketing and Product Development Vice President Jeff Jollay. "The new website has been designed to provide a more robust experience so that users can continue to rely on BrassCraft as their number one source for information."
Users also benefit from the added resources available aimed at educating and informing customers. A dedicated news section communicates industry updates including the latest on federal regulations such as the Reduction of Lead in Drinking Water Act. Adding to the user experience, the site also integrates the use of short videos to provide on-the-job tips and product demonstrations to professional plumbers.
For more information, please visit www.brasscraft.com.