Archive
Plumbing
Product News
Emerson Climate Technologies Announces Convenient Truck Five-Pack on Popular Universal Ignitor from White-Rodgers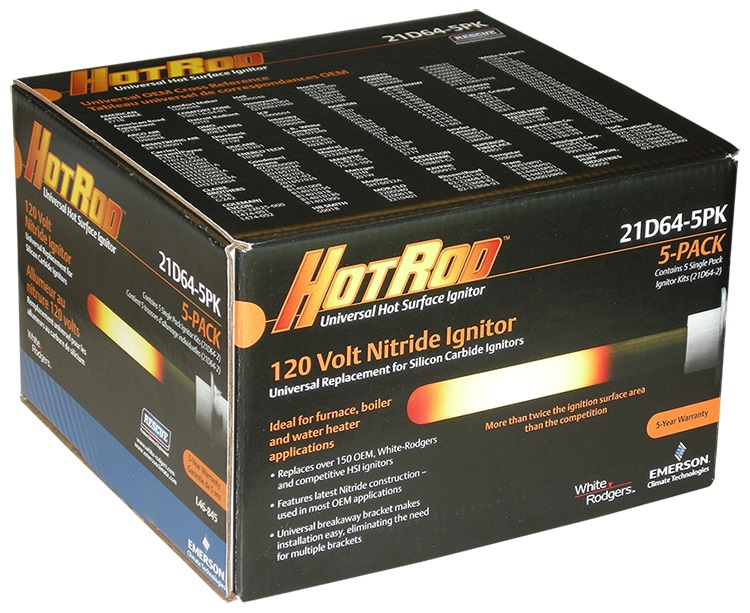 ST. LOUIS, Mo. – White-Rodgers, a business unit of Emerson and part of the Emerson Climate Technologies business segment, announced that its universal nitride ignitor replacement will be named HotRodUniversal Hot Surface Ignitor and packaged for contractors in a single pack as 21D64-2, and in a new truck stock five-pack carton as 21D64-5PK.
The HotRod Universal Hot Surface Ignitor is the same replacement ignitor that contractors rely on to replace silicon carbide ignitors in gas-fired forced-air furnaces, water heaters and boilers – now replacing over 150 different ignitors. HotRod universal ignitors have demonstrated gas-lighting reliability over years of installations and in some very challenging applications. The HotRod ignitor is backed with a five-year warranty.
The HotRod ignitor provides more than twice the ignition surface area than the competition and the simplified design of the mounting bracket makes installation fast and easy across a wide range of equipment and applications. Better ignitor and bracket design makes complicated cross references and ignitor illustrations unnecessary.
The HotRod ignitor is now available in a convenient and durable five-pack truck stock box to always have on-hand. The new five-pack box contains five single-pack HotRod ignitors and features distinctive graphics and easy to read cross references right on the lid.
Learn more about HotRod ignitors at WRHotRod.com and on the WRMobile application.