Archive
HVAC
Product News
Emerson Climate Technologies Launches New Service Contactor to Increase Air Conditioning System Reliability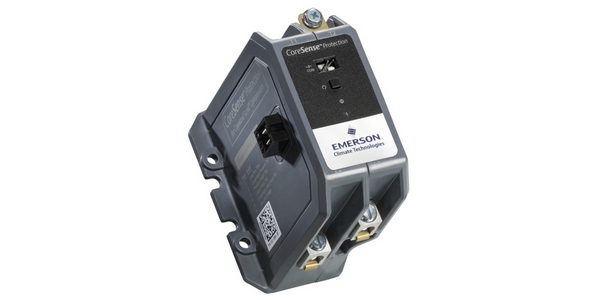 ST. LOUIS, Mo. — Emerson Climate Technologies, Inc., a business of Emerson, has launched a new service contactor that combines a traditional contactor and a diagnostic module into a single unit, using the compressor as a sensor to deliver active protection and diagnostic capabilities.
CoreSense Protection modules for Copeland Scroll compressors feature advanced electronic switching technology that has been qualified up to one million cycles; four to five times a standard contactor.  The contactor's internal microprocessor control nearly eliminates contact welding and pitting.  In addition, the circuit board-mounted relay is completely sealed and enclosed, which prevents common problems with pests and debris.
"According to our market research, 10-20 percent of all service calls are related to failed contactors. We estimate replacement contactors cost homeowners $400 million annually," said Frank Landwehr, vice president Residential Marketing, Air Conditioning Business of Emerson Climate Technologies. "CoreSense Protection modules address the most frequent causes of contactor failure: contact damage and corrosion from arcing, and insects."
CoreSense Protection modules give technicians insight into the system through the compressor, providing valuable information to help diagnose problems quickly and accurately, reducing costly callbacks. The module monitors both the compressor and system for damaging conditions such as short cycling, pressure trips and locked rotor.
When fault conditions continue and escalate further in severity, the CoreSense Protection module will proactively shut down the system. Homeowners can enjoy peace of mind knowing their air conditioners and heat pumps will work without catastrophic failure and major repairs.
To further support troubleshooting activity, CoreSense Protection modules store system and fault history for download through Emerson's HVACR Fault Finder (PC Edition) software. Contractors can gain quick insights into system, electrical and lockout fault conditions by utilizing the last seven operating days of history, an event fault sequence or graph of the most frequent codes.
For more information visit www.emersonclimate.com/coresense.