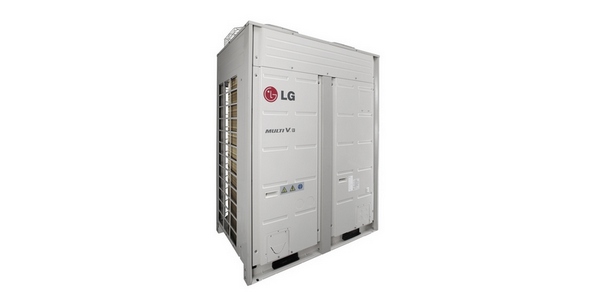 ALPHARETTA, Ga. — Bringing a new level of energy efficiency, performance and flexibility to U.S. commercial office buildings, schools, hotels and hospitals, LG Electronics has introduced its newest Variable Refrigerant Flow commercial air conditioning system, the groundbreaking Multi V IV.
The fourth generation in LG's popular Multi V series uses industry-leading VRF technology that delivers significant benefits versus traditional ducted HVAC systems, enabling improved energy efficiency by allowing occupants to choose whether to cool or heat only the zones in use. The LG Multi V IV builds on the success of its predecessor, the Multi V III, as LG's flagship commercial HVAC system in the United States, where demand for high-performance, energy-saving HVAC technology continues to grow.
Among its many benefits, the LG Multi V IV offers users a more compact footprint and is lighter in weight than other models currently on the market. Equally significant, the new Multi V IV model allows for a wider heating and cooling operating range than its competitors.
"As adoption rates for VRF systems in the U.S. market continue to increase, we're leading the way with innovations showing that it's all possible with LG," said Kevin McNamara, vice president, Commercial Air Conditioning, LG Electronics USA. "The Multi V IV ushers in the next generation of VRF innovation. It combines the same ease of installation and maintenance as our previous Multi V models, in a lighter-weight and more-compact outdoor unit that requires less piping."
"This new system is even easier to service and features remote diagnostics capability. Combined with the Multi V IV's increased energy efficiency and greater versatility for building owners, this clearly shows how LG leads the industry in making the case for VRF for all applications. LG understands the challenges faced by engineers, architects and builders in today's market, and Multi VI IV exemplifies how we're creating solutions and application options that not only meet those needs but surpass them," he said.
LG VRF systems are engineered to significantly reduce the costs associated with traditional HVAC systems. Typical systems include large duct work, distribution fans, water pumps, water piping, cooling towers and complex controls. The LG VRF system eliminates these huge initial costs and lowers the long-term costs of ownership. Multi V IV effectively eliminates efficiency losses experienced by current HVAC systems and provides more sustainable energy benefits.  Multi V IV will also help building designers achieve as many as 16 LEED* points.
The LG Multi V IV delivers a number of key differentiators to architects, commercial contractors and building owners, including:
AHRI 1230 Certification – Multi V IV is performance-certified. This ensures building owners receive verified ratings which comply with national energy codes.
Enhanced Energy Efficiency – New compressor design and optimized heat exchanger contribute to enhanced AHRI certified efficiency of up to 28.2 IEER.
LG Inverter Scroll – A high side shell innovation offers a more compact size for the same capacity output with greater reliability in cold climates.
Low Ambient Heating – Heating operating range down to -13F which provides greater comfort and saves on installation and operating costs for additional systems.
HiPORTM – High Pressure Oil Return removes efficiency losses and Smart Oil return eliminates timed oil recovery cycles.
Higher Elevation Piping Distances – Owners can reach extra zones further off the same VRF units with enhanced reach of 131 foot IDU to IDU. This eliminates the need to invest in extra systems and saves on installation.
Compact and Lighter – More indoor zones, less outdoor space. When space or access is at a premium, this equates to significant cost advantages for the owner on large projects.
Additional information about these systems can be found at www.LG-VRF.com.