MORROW, Ga. — TOTO announced that it has shipped its high-performance bathroom fixtures to assist more than 2,000 families in Moore, Shawnee and El Reno, Okla., with their long-term rebuilding process.
"Our hearts go out to the victims of May's devastating tornadoes," said Bill Strang, president of operations for the Americas,TOTO USA. "We wanted to aid our friends and neighbors in Oklahoma with their long-term recovery process, so we are sending three 40-foot container trucks laden with our beautiful designs that offer superior performance—toilets, faucets, showers and accessories—to help families in these communities rebuild their homes.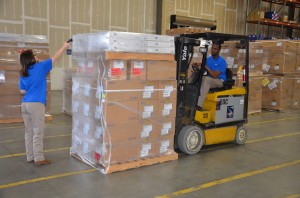 "TOTO is assisted in this humanitarian project by its partners WinWholesale, Inc., Oklahoma City, Okla., Winnelson, RoadOne IntermodaLogistics and the Oklahoma Disaster Recovery Project. "We're grateful to our partners on this philanthropic project," said Jason Fitzsimmons, vice president of sales, U.S. Sales Division, TOTO USA. "WinWholesale and Oklahoma City Winnelson are providing much needed long-term storage for the three containers that house our products. RoadOne IntermodaLogistics is providing the logistics support for the 900-mile journey from our facilities in Fairburn, Ga., to Oklahoma City. The Oklahoma Disaster Recovery Project is working with families in the local communities to help them get back on their feet by minimizing gaps in the relief and recovery system."
"Recovery is not a sprint, rather a marathon, so ongoing resources are needed to provide assistance. We could not do this without support from generous donors like TOTO. This donation provides a much needed resource for families impacted by the recent tornadoes," said Kami Kuykendall, senior director of recovery with the American Red Cross, a partnering agency in the Oklahoma Disaster Recovery Project.