HOUSTON, Texas — HTS Texas announced recently that it has supplied new HVAC equipment to the Baylor Research and Innovation Collaborative, a new $56-million facility on the Baylor University campus in Waco, Texas. The facility has completed its initial two phases of construction, with space occupied by Baylor engineering researchers, labs and industrial partners.
State and local government, Baylor University and grant funding were used to transform the old General Tire plant at U.S. Highway 77 and Orchard Lane into the BRIC discovery park, the cornerstone of the Central Texas Technology and Research Park. Within the BRIC, Baylor is conducting engineering and science research while Texas State Technical College provides advanced workforce training and development. The 340,000-square-foot building houses laboratories, workforce development and training, and an accelerator/incubator, as well as space for industry, meetings and symposia, offices and STEM (science, technology, engineering and mathematics) outreach. The BRIC is expected to be fully operational in 2016.
"When working with BRIC, we were faced with a challenge of providing comfort to Baylor's researchers and creating the optimal environment for the temperature and humidity-sensitive, high-tech equipment," said Dean Revering, HTS Texas account executive. "We were able to provide a customized HVAC solution that not only improves the air quality and delivers lower energy usage but is also cost-effective."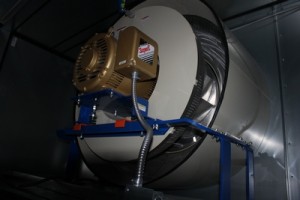 HTS Texas was chosen for this project for the exceptional value of the equipment provided and ability to deliver and install in a short amount of time. Two modular Daikin air handling units provided the necessary installation flexibility in a confined space and allowed for a quick and easy assembly. A 12,500 cfm desiccant unit with enthalpy recovery met the 48-degree dewpoint required by the facility. A second 30,000 cfm unit has partial heat recovery and AcoustiFlo fans that are quieter than conventional plenum fans, without sacrificing efficiency or reliability. Both of these custom units resulted in a highly efficient HVAC system that met specific needs of the research facility. They were delivered in only two weeks.
"We had a unique challenge of tight spaces, a tough schedule and complicated multipath custom AHUs," said Wesley Stidham, PE, principal of Shah Smith & Associates. "HTS delivered with units that met those needs and provided very good value to the owner."