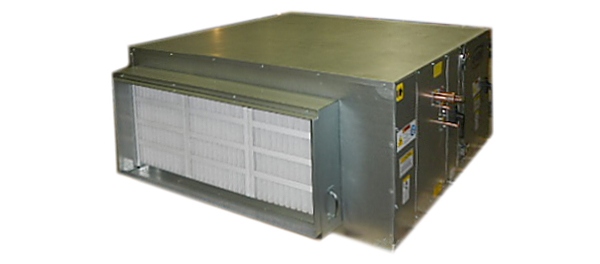 NEW YORK, N.Y. — LG Electronics USA's Commercial Air Conditioning division has augmented its range of Variable Refrigerant Flow solutions with the new LG Dedicated Outdoor Air System.
The LG DOAS can be used in multiple settings, meeting the needs of a wide variety of end-users. It provides dehumidification of outdoor air using LG's inverter compressor outdoor units. In addition to being seismically certified by California Office of Statewide Planning & Development, this high-quality dedicated outdoor air system is designed to provide conditioned outdoor air and maximum energy savings.
The unit is designed to deliver flexibility to meet the local design conditions, complete with three different airflow rates of 2000, 1600 and 1200 cfm. The DOAS also retains external static pressure of up to 1.65 inches and offers long-lasting comfort with a fan that stays on during the defrost cycle. This innovative DOAS by LG comes with MERV 8 filters included, but the filter rack can also accommodate up to MERV 14 filters.
The versatile DOAS can be used in various settings, such as healthcare, retail, banking, hotels and residential, making it an ideal option for a variety of building needs. Its low profile design allows for seamless installation above ceilings, and web accessible controls deliver unrivaled convenience and comfort.
For information on the complete portfolio of LG's Commercial Air Conditioning solutions, visit www.lg.com.
Source: LG Electronics USA, Inc.