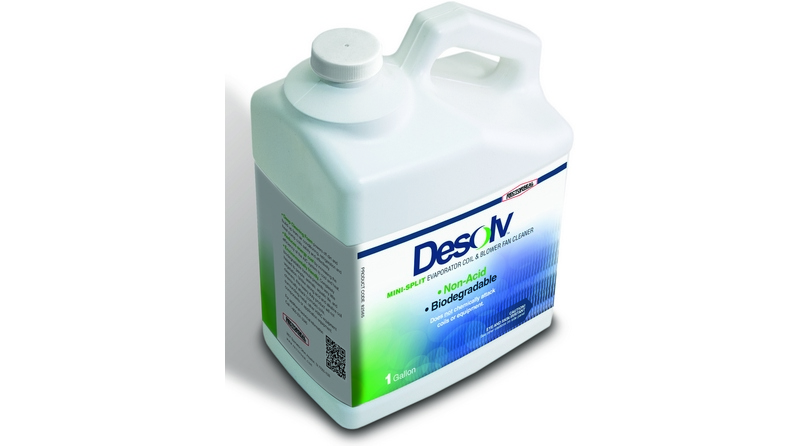 RectorSeal Corp., Houston, Texas,  introduces RectorSeal Desolv, the HVAC industry's safest and most effective coil and blower fan blade cleaning agent formulated specifically for the evaporators and sensitive environments of mini-split air conditioners.
The odorless Desolv dislodges dirt, biological contaminants, debris and films within minutes to prevent the inherently small evaporator condensate drain pan orifices from clogs. After a comprehensive two-year testing period on all mini-split brands and models, Desolv is guaranteed to dislodge and dissolve contaminants without harming the aluminum, copper and metal alloys of sensitive evaporator coil tubing, fins and the unit's plastic housing cover.
Desolv's no-rinse formula has superior cleaning characteristics, but is safer than overly aggressive conventional air conditioning unit coil cleaners. Desolv's non-caustic formula is suitable for sensitive environments such as clean rooms and datacenters. It's also safe for all piston, diaphragm and peristaltic style condensate pumps, and lessens maintenance by dissolving particulates for cleaner and free-flowing filters. The non-fragrant, bacteria-static formula is also ideal for healthcare environment occupants with high sensitivities to odors, chemicals, airborne microbial contaminants or gaseous chemicals. Desolv is also safely used in units employing ultraviolet germicidal irradiation equipment for biological contaminant prevention.
Save for use on all ductless mini-split systems.
Developed by RectorSeal's specialty chemicals division, which has produced conventional coil cleaners, solvents and rinses for over 40 years.
Safe for piston, diaphragm or peristaltic condensate pumps or cause pump motor burnout.
Works equally well for PTAC units.
Increases heat transfer to maintain mini-split efficiency.
Recommended for use in coils used in cooling and heating seasons.
Available through all major HVAC wholesale distributors.
Desolv is a perfect complement to RectorSeal's full line of ductless mini-split installation and cleaning accessories such as NoKink–kink-free lineset connection; GasGuard and Novent–locking caps for condenser refrigerant access valves; SlimDuct and Fortress–lineset protection duct; ACTabs–drain pan mold prevention; PairCoil–pre-insulated linesets; Aspen Pumps–condensate pumps and a variety of other accessories for condensate management and equipment mounting.
For additional information, visit www.rectorseal.com or call 800-231-3345.