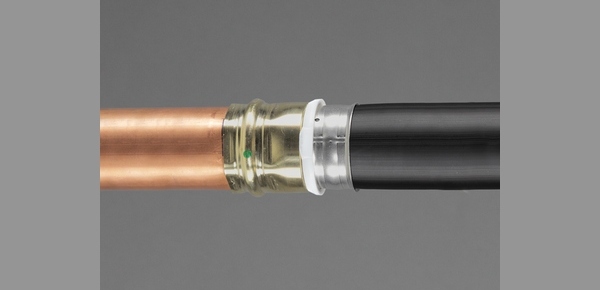 WICHITA, Kan. — Viega LLC offers specially designed adapter fittings for transitions from Viega ProPress copper systems to Viega PEX tubing systems.
The fittings provide the same time saving, flameless press connections as other Viega press systems.
"The adapter fittings feature the same Viega press technology that installers trust for commercial installations. Viega is the only source for all system installation needs," said Paige Riddle, product manager, Viega. "The adapter fittings make the easiest and most reliable transition from Viega ProPress systems with copper tubing to Viega PEX tubing."
The fittings are a reliable Zero Lead pressing solution for commercial potable water systems and are available in sizes up to 2 inches. The company has worked for more than 15 years to develop a proprietary lead-free alloy specifically formulated to be superior for press technology.
Viega also offers a complete line of lead-free fittings in copper, 316 stainless steel, Zero Lead bronze, Eco Brass and high-performance polymer which already meet 2014 national lead-free requirements. All of its PEX tubing, PEX Press polymer fittings, PEX Crimp PolyAlloy fittings, ProPress copper fittings, ProPress for stainless fittings and pipe and Viega ManaBloc already meet lead-free requirements.
Viega's adapters for joining copper and PEX tubing are approved for plenum applications and meet, or exceed, many industry standards including ASTM F876, ASTM F877, NSF 14, NSF 61 and others.