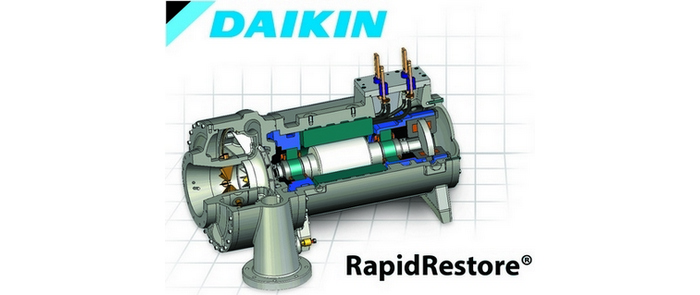 MINNEAPOLIS, Minn. – When mission-critical facilities like hospitals, data centers and schools experience power failures, it can spell disaster for those involved. But with compressor start and loading times that are twice as fast as standard HVAC units, Daikin Applied's Magnitude WMC chillers with RapidRestore give owners peace of mind during a power loss.
The new RapidRestore feature gives the Magnitude WMC a compressor start time of 43 seconds and it fast loads to 80 percent capacity within 120 seconds after power is restored. This feature simplifies ownership by decreasing the need for additional thermal storage for critical applications and reducing the requirement for manual intervention by operating personnel. In addition, Magnitude magnetic bearing chillers maximize uptime, decrease disruptions of a facility's operation and allow for greater water temperature stability. The RapidRestore capability is ideal for most commercial applications including hospitals, small to midsized data centers, schools and office buildings.
"Daikin Applied is committed to providing customers with a vast assortment of efficient and reliable solutions, and with the addition of RapidRestore to the Magnitude WMC models, we now offer the widest range of products with RapidRestore capabilities for water- and air-cooled chillers," said Bill Dietrich, chiller product general manager at Daikin Applied. "This technology is yet another example of Daikin Applied continuing our tradition of delivering premium products that also lower lifecycle costs."
With more than 3,000 installations globally, Magnitude's oil-free, magnetic bearing compressor technology is proven to reduce energy and operating costs while delivering the highest level of reliability. The oil-free technology reduces maintenance costs because there are no conventional bearings or an oil management system. Sustainable efficiency and capacity is assured by the oil-free system design which maintains "as new" performance by eliminating the heat transfer loss when oil contaminates the refrigerant and builds up in the evaporator. Magnitude also meets Leadership in Energy and Environmental Design certification criteria, qualifying it for LEED EAC4 points.
The RapidRestore feature represents just one of Daikin Applied's many innovations tied to the Magnitude line in the past year. The company also recently announced the expansion of the Magnitude WMC chiller line, adding four additional sizes – WMC125, 200, 225 and 275, as well as expansions to the Magnitude WME line with sizes up to 1500 tons, making Daikin Magnitude chillers available from 100-1500 tons.
For more information about the Daikin Magnitude centrifugal chiller line and related RapidRestore and RideThrough options for mission critical applications, visit: www.DaikinApplied.com.