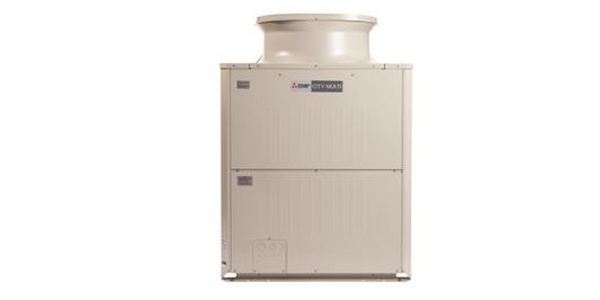 SUWANEE, Ga. — Mitsubishi Electric US, Inc. Cooling & Heating Division introduces the latest innovation in Variable Refrigerant Flow technology – the CITY MULTI L-Generation Air Source outdoor units. The L-Generation (6-30 tons; single modules up to 14 tons) has achieved significantly improved efficiency ratings due to HexiCoil technology, an aluminum flat tube heat exchanger that maximizes heat transfer capability through its unique fin shape. Increased efficiencies across all categories make this outdoor unit ideal for projects with efficiency goals such as LEED certification or net-zero status.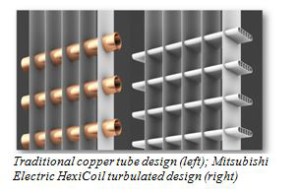 The unique fin design of the HexiCoil product, along with its zinc outer coating, provides superior water shedding capability and corrosion resistance, prolonging the outdoor unit's lifespan. The capillary tube system ensures even fluid distribution, further contributing to superior heat transfer ability.
Other L-Generation enhancements include:
30 percent smaller footprint than previous models, making the system ideal for projects with tight mechanical spaces.
Up to 50 percent reduction in system refrigerant charge; refrigerant circuit design optimized for improved flow distribution.
Improved high-ambient cooling operating range; guaranteed cooling operation up to 126 degrees F.
Improved vertical separation between indoor units within the same heat recovery system – a distance of up to 98 feet – expanding design options.
As with all Mitsubishi Electric VRF systems, the outdoor units are designed for the quietest possible operation – 58 to 65 dB(A). All models in the L-Generation now include a bellmouth grill with a DC fan motor, which reduces static pressure while minimizing power input.