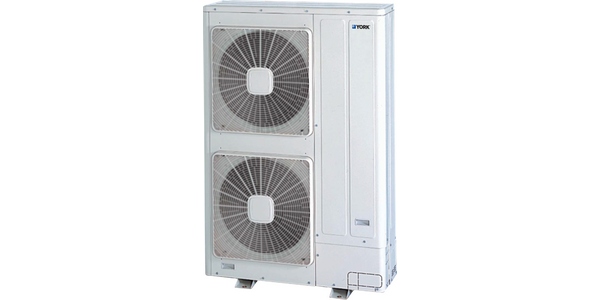 MILWAUKEE, Wis. – The new YORK Mini variable refrigerant flow cooling and heating system from Johnson Controls provides personalized comfort to residential or light commercial buildings with virtually any floor plan.
With its small footprint, it offers a VRF option for buildings with zero lot lines or zoning restrictions and its lightweight, flexible piping possibilities enable it to be installed on the ground, on a terrace/balcony or on a roof. The modular system enables each unique solution to be built room by room and floor by floor.

These new 3, 4 and 5 ton heat pumps will accommodate up to eight of the VRF indoor units from Johnson Controls' current offering, as well as the vertical (four-way convertible) Johnson Controls air handler.
Other new VRF products being rolled out in March include:
2-way cassette: Compact and quiet. An optional motion sensor kit saves energy and optimizes occupancy comfort.
Dedicated outside air system: Integrated into the VRF piping and controls, the DOAS provides a zoned and decentralized approach to conditioning and supplying outside air.
EconoFresh economizer: An indoor medium static unit and an economizer in one unit, the EconoFresh economizer provides free cooling and air quality when outdoor temperatures are lower than indoor.
Ducted 6 and 8 ton VRF indoor units: Provide design flexibility with a capacity range up to eight tons.
For more information, visit johnsoncontrols.com/vrf.