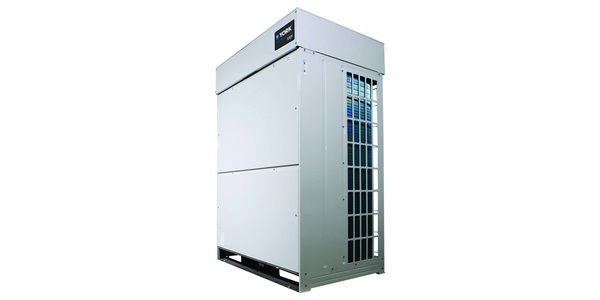 MILWAUKEE, Wis. — The new YORK low ambient variable refrigerant flow cooling and heating systems from Johnson Controls provide energy efficiency with individualized comfort to commercial and light commercial buildings in cooler climates.
The new 6, 8, 12, 14, 16 and 24 ton VRF heat pump systems feature inverter compressor technology with highly efficient heating function down to -13 F ambient air temperature due to the new scroll compressor and liquid injection technology. The units offer heating up to 59 F and a cooling range of 14-118 F ambient air temperature.
AHRI-certified efficiency ratings for the low ambient systems are as follows:
Integrated Energy Efficiency Ratio up to 18.9
Energy Efficiency Ratio up to 13.0
Heating Coefficient of Performance up to 4.09
The existing YORK VRF Indoor Unit product line is fully compatible with the new Low Ambient Outdoor Units, so engineers and architects are able to offer VRF systems in cooler climates with design freedom for multiple building types and styles.
The new Low Ambient VRF Outdoor Units are well suited for the following types of projects: schools, multi-family, offices, retail, churches, lodging, historic renovations and healthcare facilities.
Additional product enhancements for the full product line include:
Heat recovery and heat pump systems now have an increased vertical lift up to 295 feet for systems of any size—ideal for applications where the vertical distance between the outdoor and indoor units exceeds 164 feet.
YORK VRF Simplified Wired Controller is now capable of integration with key-card systems for set-back temperature—ideal for hotels, hospitality or lodging.
RLS Press Fittings and Parker Sporlan Zoomlock Press Fittings have been approved for installing or servicing YORK VRF and Duct Free Mini-Split systems.
For more info, visit johnsoncontrols.com/vrf.