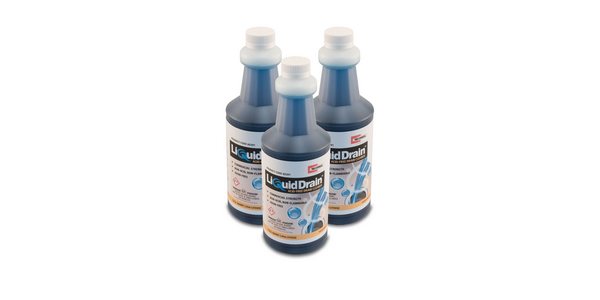 RectorSeal LLC introduces LiquidDrain, the commercial liquid drain cleaner that's safer for the environment, service technician and plumbing system than the industry's caustic acid-based liquids.LiquidDrain is an industrial strength, non-acid and non-flammable drain cleaner and opener formulated exclusively for the plumbing trade and available from traditional plumbing wholesale distributors. The odorless, neutral-blue colored LiquidDrain's penetrating sodium hydroxide high-foaming action lifts and pushes contaminants and oxides from sewer and waste lines.
LiquidDrain clears blockages containing drain-clogging paper, rags, sanitary products, sludge, soap scum, fats, wood, hair, food and difficult-to-remove cooking grease.
Combining LiquidDrain's one-quart contents with warm-water flushes and solves most blockages within 30 minutes of application. It also helps avert blockages when used periodically as a preventive for working drains. LiquidDrain will not harm plumbing piping materials, such as cast iron, steel, copper, brass, lead and plastic or plumbing components, such as septic tanks, cesspools, drainage fields and leaching systems.
Other LiquidDrain features and benefits are:
Equally as effective as acid-based drain cleaners
Childproof cap prevents tampering
Foaming action proves drain clearing is in progress
Sold to wholesale distributors in cases of 12 bottles
Each recyclable plastic bottle size is designed for a single dose
Developed by RectorSeal's in-house chemical engineering department and backed by more than 80 years of chemical manufacturing and quality control
For more info, visit www.rectorseal.com.