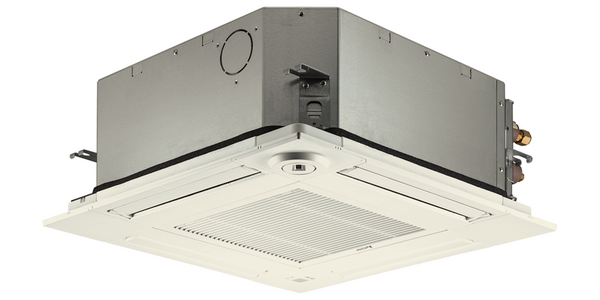 SUWANEE, Ga. – Mitsubishi Electric US, Inc.'s Cooling & Heating Division introduces an updated 2×2 Four-Way Ceiling Cassette (PLFY-P) as part of the CITY MULTI product lineup.
The new PLFY-P Ceiling Cassette offers a sleek, square-edge design that fits into the same 2-by-2 dimensions as many standard ceiling tiles. The four vanes allow air to flow in multiple directions for maximum comfort.
The PLFY-P is available with an optional feature – the 3D i-see Sensor – which continuously scans the room for occupancy and makes adjustments to maintain comfort. The sensor intelligently monitors the thermal profile of a space, automatically identifying when a person enters and their heat signature is detected. It can distinguish temperature levels between humans and other heat signatures, such as animals. When a room, such as a conference room, hotel room or classroom, is unoccupied, the sensor automatically adjusts the temperature levels or switches to an energy-efficiency mode.
The 2-by-2 size of the PLFY-P ceiling cassette makes installation efficient and simple. It is available in capacities ranging from 5,000 to 18,000 Btu/hr. Additional features include:
Ventilation air intake support
3D turbo fan to increase airflow
Four fan speed settings, including auto-fan
Corner-pocket design for simplified installation
Built-in condensate lift mechanism designed to provide up to 19-11/16 inches of lift
Improved installation features, energy-saving features and occupancy detection when used with the PAR-32MAA-J controller (purchased separately)
For more info, visit www.mitsubishipro.com.