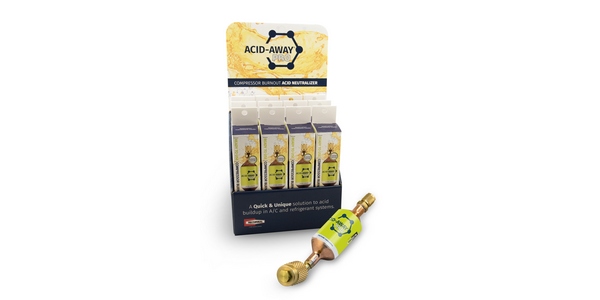 RectorSeal now introduces Acid-Away PRO, the new quick-and-easy, all-in-one injector for eliminating acid in residential and commercial refrigeration and air conditioning systems. The Acid-Away PRO injector includes a 1.5 ounce dose of the same trusted Acid-Away formula that service technicians have used for more than two decades to eliminate and prevent refrigeration system acid formation.
The six-inch-long Acid-Away PRO injector consists of a 1.5 ounce copper reservoir; a high-side 1/4-inch standard brass connection fitting and a low-side 1/4-inch low-loss Schrader valve brass connection fitting designed to protect the service technician's hands from frostbite and the environment from escaped refrigerant. The recyclable injector simplifies and expedites usage versus the original Acid-Away bottle/funnel method. Unlike the original Acid-Away, which was offered in both mineral oil and polyolester versions, Acid-Away PRO has been reformulated for all refrigeration oils.
Compared to most competing products, which are defined as scavengers that attach to acid molecules for entrapment in the system's filter drier, Acid-Away PRO chemically changes acid into a neutral, non-corrosive substance that doesn't attack metals or cause future compressor motor burnouts. Unlike scavengers, Acid-Away doesn't deplete filter/drier capacity, which potentially leads to premature filter/drier replacement callbacks.
While Acid-Away Pro is designed for compressor burnout system cleanup, it's also an excellent preventive maintenance treatment for systems with a history of acid buildup. Two other RectorSeal products complement Acid-Away PRO: Acid Detector acid test kit and the Turbo-Kleen Starter Kit for cleaning burnout residual from system components.
Other features of the Acid-Away PRO include:
OEM approval by Trane, Bristol and several other equipment brands
Doesn't require replacing filter/drier beyond periodic replacement schedules
Reformulation for all refrigeration oils results in only one inventory SKU
Prefilled applicator minimizes introducing moisture and air into the system
Available to HVAC/R wholesale distributors in countertop cases of 12 units, each which have a peg hole for optional displaying on wall pegs
For more info, visit: www.rectorseal.com.