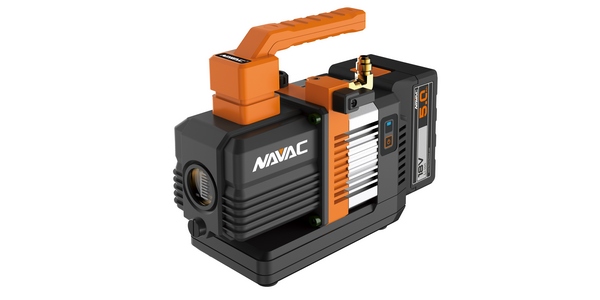 NAVAC has introduced the North American market's first cordless vacuum pump. The NP2DLM Cordless Vacuum Pump is a compact, lightweight unit suitable for small HVAC systems, such as small ductless split systems, PTACs and other domestic refrigeration appliances.
Weighing just 6.6 pounds with dimensions of only 9.2-inch by 7.5-inch, NAVAC's cordless vacuum pump is convenient to carry for technicians and ideal for applications where power supply access is an issue. Using a dual-stage rotary vane pump, it is capable of reaching an ultimate vacuum level of 23 microns. Its lithium-ion battery can operate continuously up to one hour. Additional batteries are available for purchase. The unit has an air flow capacity of 2 cfm, two inlet connector sizes (1/4 inch & 3/8 inch), and features a shut-off valve for system isolation.
NAVAC's NP2DLM Cordless Vacuum Pump comes in a convenient carrying bag with battery, charger and bottle of vacuum oil. The unit will ship to distribution partners in March 2019, with orders being accepted starting in October 2018.