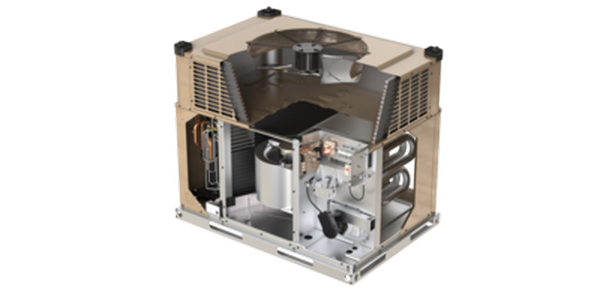 The YORK brand of Johnson Controls is launching an efficient, reliable and competitive package unit designed to lower smog-producing gases while delivering high performance and reliable comfort. The YORK Ultra-low NOx Residential Package Equipment offers a compact, robust, all-in-one HVAC system that provides reliability and quick installation for space-challenged homes.
The heart of the ultra-low NOx technology is a proven burner system for reducing greenhouse and smog-producing gases by up to 65% versus standard low-NOx models. In addition, it is available with 81% AFUE, providing greater comfort for less money. The units are available in 14 SEER, single-stage heating and cooling, a variety of tonnages and single- and three-phase electrical configurations, providing the contractor with solutions to meet virtually every application, while the homeowner is provided with comfort tailored to their individual needs.
Installation and maintenance time and costs are minimized due to individual access panels for all major components, and easy power and control wiring connections. In addition, all units are completely wired, charged with R-410A refrigerant and tested prior to shipment. For homeowners, low-noise fans and vibration-reducing technology minimize noise to provide quiet comfort year-round. The upward airflow carries the normal operating noise up and away from the living area while the rigid top panel effectively isolates noise. The isolator-mounted compressor and rippled fins in the outdoor coil muffle the normal fan motor and compressor operating sounds. The uniquely formed base pan further aids in sound attenuation.
The durable package units provide reliable performance following rigorous accelerated life testing at -20 F to 125 F. In addition, homeowners can enjoy greater peace of mind provided by class-leading warranties.
For more info, visit www.york.com/Residential-Equipment/Heating-and-Cooling/Residential-Packaged-Equipment.