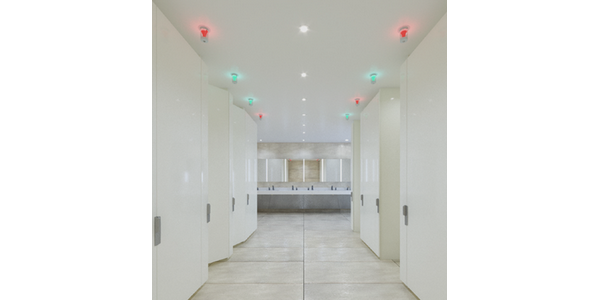 Sloan has partnered with Modus Systems, LLC to become the exclusive North American go-to-market partner for all Tooshlights products. A smart restroom management system, Tooshlights communicates restroom stall occupancy to provide an enhanced user experience along with insight and data for facility managers.
Each Tooshlights kit includes an indicator light, mount and a smart latch or deadbolt. Indicator lights change colors to indicate stall availability and can be mounted in a variety of options directly above restroom stalls. When the stall is available, the light turns green, whereas the light turns red when the stall is occupied and the smart latch or deadbolt is activated. A blue light can also be designated for available ADA stalls. The tamper-resistant and easy-to-install battery-powered latch and deadbolt pair wirelessly with the indicator lights.
Tooshlights are strategically designed to increase restroom efficiency. They decrease time spent searching for open stalls while increasing privacy by eliminating under-door peaking. Additionally, the system helps to optimize health and wellness by mitigating crowding and minimizes the need to touch doors to see if the stall is available.
Each indicator light can be paired with the Tooshlights Hub that can power and manage up to 30 lights while communicating vital usage and maintenance data via Power over Ethernet.
For increased insight and a more connected restroom, facility managers can upgrade their Tooshlights system with a Modus Systems Software subscription to view stall, restroom and facility usage information and analytics. This information enables maintenance teams and building owners to see stall usage, track how long each stall is occupied, generate reports that track daily, weekly and monthly data per stall and per restroom, and receive alerts when a stall has been occupied for a set length of time.
Tooshlights offers a range of stylish and durable design options that meet the needs of any high-traffic restroom environment, from airports, theaters and stadiums to restaurants and office buildings.
For more info, visit Sloan's website.