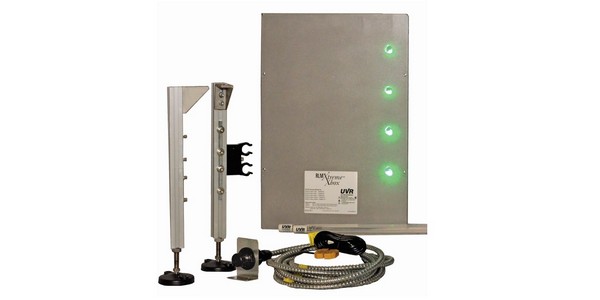 UV Resources' airstream disinfection systems have been certified by Intertek to meet UL-2998, a zero-ozone verification standard.
The UL-2998 standard reaches beyond enforced limits to ensure the company's 253.7 nm germicidal UV fixtures operate significantly below federal ozone emission requirements in the U.S. and Canada, including those from U.S. Environmental Protection Agency, U.S. Food and Drug Administration, National Institute for Occupational Safety and Health and the Occupational Safety and Health Administration.
With this independent, third-party verification, UV Resources has demonstrated that its RLM Xtreme airstream disinfection system meets ozone emission concentration limits of less than 0.005 ppm (5 ppb). The UL-2998 ozone emission standard is 10 times less than current levels permitted under UL-867, which allows ozone production concentrations of 0.05 ppm (50 ppb).
The American Society of Heating, Refrigerating and Air-Conditioning Engineers Environmental Health Committee suggests that "safe ozone levels would be lower than 10 ppb" (0.01 ppm) and that "the introduction of ozone to indoor spaces should be reduced to as low as reasonably achievable levels."
The new validation can help facility managers, building engineers and HVAC contractors identify products that improve indoor air quality, without producing hazardous secondary chemicals or byproducts such as ozone. Specifiers can reference Intertek report number 104351693CRT-001d, or view the online verification at sustainabilitydirectory.intertek.com.
For more information, call 877-884-4822 or visit UVResources.com.