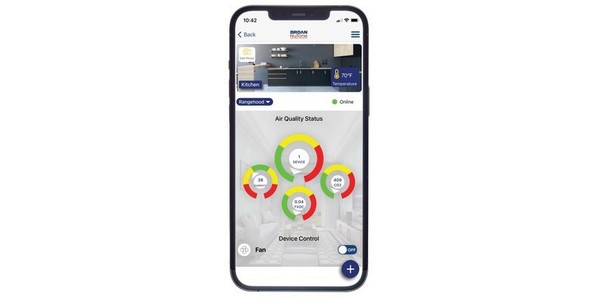 Broan-NuTone's new connected indoor air quality system, Overture, connects a home's supply and exhaust ventilation to monitor the quality of air and turn on automatically when air quality levels are low. The system is fully integrated into a home's supply and exhaust ventilation and can be installed in new construction or remodels without the need for an incremental hub, meaning it can be controlled from the cloud. Overture operates with new or existing products using specialized switches and sensors. Installation is a breeze in either scenario.
Overture provides a fully customizable, automated IAQ system that delivers up-to-the minute reporting on a home's indoor air quality and how the system is acting to maintain constant, fresh airflow. When it detects a rise in indoor air pollution caused by increased humidity, VOCs, smoke, carbon dioxide and small particles (sometimes referred to as PM2.5), the system will automatically turn on the nearest ventilation fan to eliminate the pollutant, while simultaneously bringing in fresh, clean air from outside.
The entire system is easily managed with an app, where homeowners can view live snapshots of the home's IAQ, individual rooms' air quality and historical data.
Sensors detect when humidity and pollutants are present and automatically switch on the appropriate Broan-Nutone ventilation fan, rangehood, ERV/HRV or supply fan. It automatically mitigates the issue through a balance of exhaust and fresh air.
For more information, visit http://overture.broan-nutone.com/.