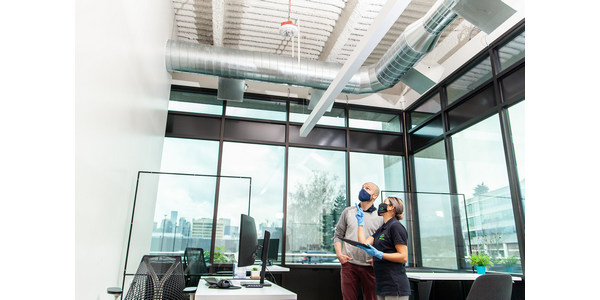 SafeTraces, Inc. launches its HVAC Safety Verification Service for commercial real estate, education, healthcare and other built environments. This service will be available immediately for building owners and operators via flagship partners and a national network of certified professionals.
Respiratory infections represent one of the most significant public health risks in the world. Beyond COVID-19, the annual direct and indirect cost of influenza and other respiratory infections has been estimated at over $50 billion just in the United States alone. Scientific evidence indicates that ventilation, filtration and disinfection are critical mitigation strategies. However, most public buildings lack the ability to test and verify performance of their HVAC and mechanical systems for airborne pathogens due to limitations in existing diagnostic assessment tools.
Offered quarterly, semi-annually or annually, SafeTraces' HVAC Safety Verification Service leverages the company's veriDART solution. Developed with support from the National Institutes of Health and leading technical experts, the service employs patented DNA-tagged bioaerosol tracers that safely simulate respiratory emission of airborne pathogens in real-world spaces. Resulting data helps identify potential infection hotspots, verify ventilation and filtration system performance for mitigating occupational exposures to airborne pathogens, and inform critical safety, engineering and financial decisions with independent, science-based, performance data.
For more info, visit http://www.safetraces.com.