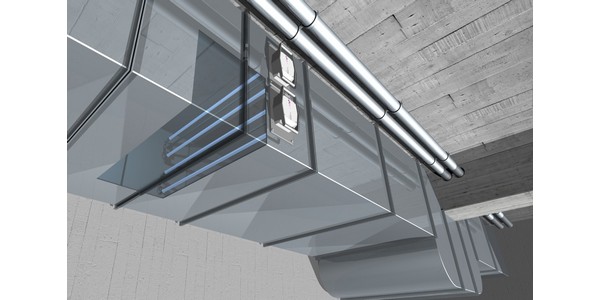 Heraeus Noblelight announces its Soluva UVC air disinfection product line will debut at the 2022 AHR Expo.
In addition to social distancing, hand-washing and mask-wearing safety measures, the UV-C devices make the working environment even safer and help avoid business disruptions due to employee infections. Facility managers and building owners can retrofit the Soluva devices into ventilation systems and install them in rooms to enhance indoor air quality and provide another layer of protection for occupants. HVAC contractors and service companies can expand their offerings to clients by installing and retrofitting Soluva devices into existing buildings.
Proven and verified UVGI disinfection solution
Soluva devices are disinfecting air in restaurants, schools, medical practices, manufacturing, offices and many other types of buildings. Soluva UVGI disinfection devices destroy the corona virus, its mutations and additional viruses (including cold and flu pathogens) by utilizing UV-C, also called ultraviolet germicidal, light. UV-C light easily inactivates the SARS-CoV-2 virus and its mutations, because they have a very thin lipid layer, which easily allows the light to penetrate and neutralize the virus immediately. The SARS-CoV-2 viruses, its mutations and additional viruses are destroyed by 99% as verified by testing under real conditions at the Fraunhofer Institute for Building Physics among others.
Visit www.soluva.com to learn more.