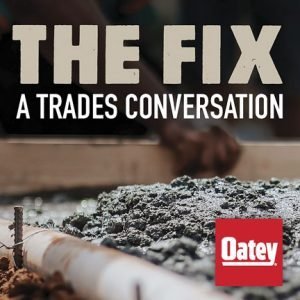 Now more than ever, skilled trade workers are vital to society's everyday safety, health and well-being. Oatey Co. has released its first-ever podcast, The Fix, which aims to shed light on the significance of the trades, while educating, inspiring and empowering the next generation of professionals to promote the longevity of the industry.
Each episode of The Fix will feature a conversation with thought leaders across the range of skilled trades, such as plumbing, manufacturing, electrical, HVAC, commercial construction and more. The guest lineup for season one includes tradespeople, educators, trade organization leaders, Oatey's own experts and more.
Through these conversations, The Fix explores careers in the trades, discussing solutions to combat the growing labor shortage, as well as demonstrate how rewarding and lucrative skilled trades careers are. Guests share their unique take on the industry, including career advice, jobsite experiences, how to overcome common misconceptions, promoting diversity and more.
The first three episodes of season one are now available on all major podcasting platforms. New episodes will be released on Wednesdays. To learn more about The Fix, click here.