eNews
Piping Trends Addressing the Top 5 Industry Challenges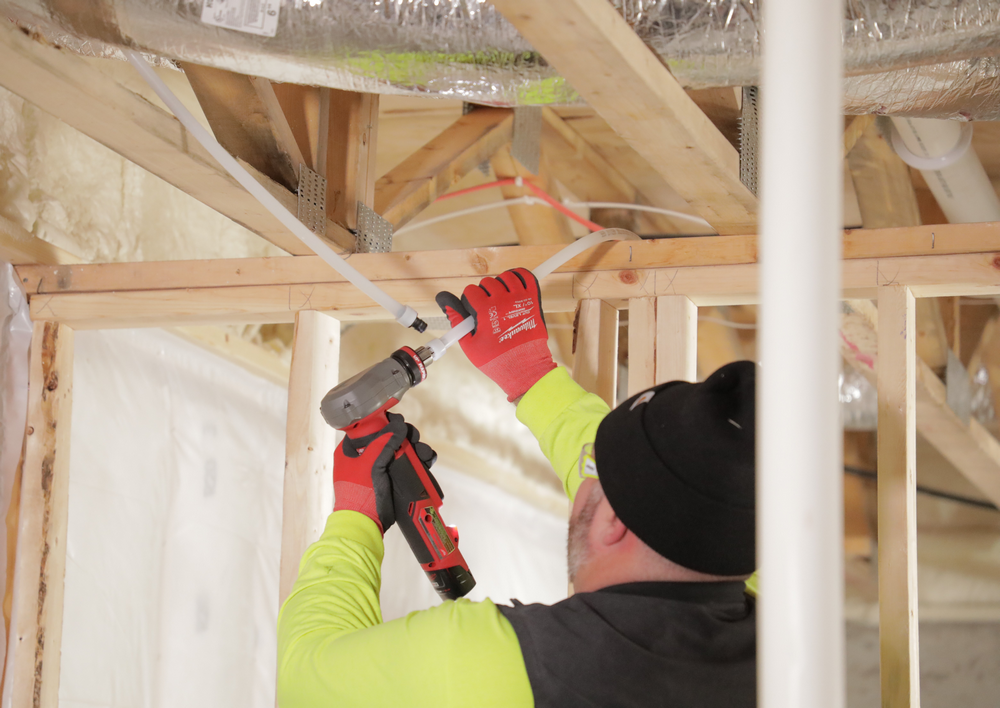 By Kim Bliss
The construction industry is going through a transformation to become more efficient and productive with tighter budgets, diminishing resources and fewer skilled workers. While the onset of building information modeling and virtual reality are the big technology drivers to help maximize project efficiencies, there are also products and services available that can address the needs of a plumbing or mechanical piping company.
The following are the top five challenges impacting the construction industry, along with the piping trends helping to address these issues.
Jobsite productivity
This is arguably one of the top needs of a construction company. However, faster isn't always better. It's also important to be accurate. To leverage greater efficiencies and accuracies on the jobsite, many piping professionals are turning to flexible pipe with bend supports.
With flexible pipe, such as PEX, it eliminates the need to stop and make a fitting with each change in direction. This saves significant labor time (as well as money) and can also improve installation accuracy. On a side note, another nice benefit of fewer fittings is improved system performance due to reduced pressure loss.
Also, for smaller-dimension piping, such as ½ inch or ¾ inch, there are bend supports to help facilitate tight bends and keep the piping in place at the proper angle. These bend supports are oftentimes a lot less expensive than a fitting and can essentially eliminate most elbows on a jobsite, saving significant install time.
Another option to help improve jobsite productivity is prefabbing or kitting. While this is more of a solution or service rather than a product offering, it's a trend that more professionals are incorporating to add efficiencies to projects.
Having workers prefabricate assemblies repeatedly in a controlled workshop environment, as opposed to a variable jobsite environment, can significantly increase jobsite productivity. And some piping manufacturers are beginning to offer kitting services where parts and pieces are bagged and tagged to make it faster and easier to install systems on a jobsite.
Profitability
Improving profitability can have many facets, and there are several variables that can impact a project's profitability potential. One big factor is callbacks.
Anyone in the industry long enough has experienced a callback, and some of the more common callbacks relate to leaks. While leaks can happen with any type of piping system, there are factors that can help reduce the potential for leaks in a system.
Eliminating dry fits is a surefire way to help reduce leak potential. By installing a piping system that can't be dry fit, such as PEX piping with ASTM F1960 expansion connections, it adds additional peace of mind knowing there won't be a callback due to a dry-fit leak.
Another area that can help improve profitability potential is labor. This goes back to the point of installing flexible pipe with bend supports to eliminate fittings. Faster installs can mean reduced labor costs, which can support a stronger bottom line when the project is complete.
Additionally, PEX piping systems are typically less expensive compared to copper piping systems to also help improve total project costs.
Skilled-labor shortage
The industry estimates the skilled-labor shortage will continue to get worse as more workers retire and fewer people choose the trades as a career. To help address this challenge, ASTM F1960 PEX expansion connections are easy for less-skilled workers to learn and also allow a quick ramp-up time to become efficient at the process.
With PEX expansion, the installer simply places an expansion ring on the end of the pipe and uses an expansion tool to expand the pipe and ring before inserting a fitting. As the pipe and ring shrink back down, it creates a solid, strong connection that can be pressure tested in minutes.
This system doesn't require the use of any additional tools or gauges to ensure the connection is made properly. It's a visual system that is easy to confirm for both the installer, as well as the project foreman.
Prefabbing and kitting (stated above) are also very beneficial with the skilled-labor shortage. When less-skilled workers have the opportunity to perform a skill repeatedly in a prefab shop, it hones the skill and can improve the quality of the work. As they say, "practice makes perfect." This is especially true with prefabbing. Giving less-skilled workers the job of prefabbing accelerates their knowledge and expertise and also frees up higher-skilled workers to be on the jobsite managing the project.
With kitting, less-skilled workers don't have to guess which products to install in a specific area of a project. The kits come in individual bags with clear directions as to where the product belongs. This also helps with accuracy and consistency on a jobsite as well.
Safety
With fewer workers available today, keeping them safe on the jobsite has become more important than ever. PEX piping systems provide greater jobsite safety in two ways — the product is significantly lighter in weight and the connection system requires no open flame or chemicals.
Body injuries due to lifting heavy piping systems are common on construction sites. With PEX, which can weigh up to three times less than copper pipe and up to 80% less than steel, it's much easier for workers to move around a jobsite. Also, because PEX comes in coils, which are easier to handle than long 10-foot or 20-foot sticks, it also adds to greater jobsite safety.
Eliminating open flame and chemicals is also important. With the ASTM F1960 PEX connection system, one simple tool is all that is needed to make connections that are easy to learn, quick to create and don't need open flame or chemicals. It also eliminates the need for fire watch on a commercial building site, which can be costly and a hassle to coordinate.
Sustainable building
Lastly, sustainable construction is becoming more important for building owners and end users, which means it is also important for plumbing and mechanical contractors, as well.
PEX piping is beneficial in supporting sustainable-building practices in three ways. For one, because the pipe is available in long coils, it can greatly reduce waste when the pipe can be cut to length as needed on the jobsite. Secondly, the corrosion resistance of PEX means it can last for decades, unlike metal systems, which can corrode and require replacing.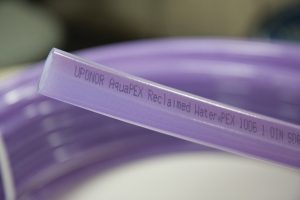 Thirdly, there is purple PEX pipe available for use in reclaimed-water systems. These systems are significant in sustainable-building designs to help mitigate water waste. In a reclaimed system, water is captured from sinks and showers into a holding tank where it goes through a filtering process. The specially designated purple pipe (industry standard color for reclaimed-water systems) distributes the filtered, reclaimed water from the holding tank out to laundry, toilets and irrigation systems.
The construction industry is continuing to innovate and evolve to address the changing needs of the business; there are many technologies, services and product solutions that can provide a positive impact.
Learning about these solutions can help elevate construction and offer greater safety, productivity and efficiencies to projects and businesses.
To learn more about PEX piping systems and the solutions they can provide, visit the Plastics Pipe Institute at plasticpipe.org or the Plastic Pipe and Fittings Association at ppfahome.org.
Kim Bliss is the technical and marketing content manager at Uponor. She can be reached at kim.bliss@uponor.com.