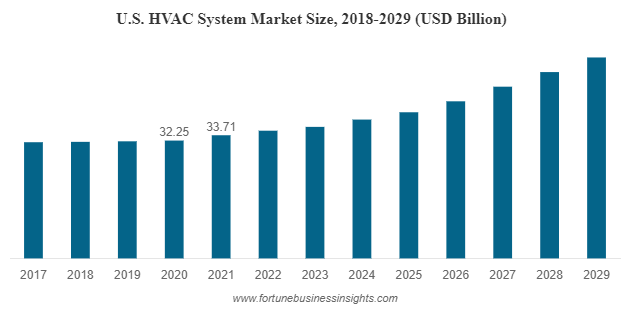 The North America HVAC System Market size was $41.67 billion in 2021. The market size is expected to rise from $43.67 billion in 2022 to $62.31 billion by 2029 at a CAGR of 5.2% during the forecast period. The market is anticipated to rise during the projected period due to increasing demand for green building construction activities and clean indoor air. Fortune Business Insights publishes this information in a report titled, "North America HVAC System Market, 2022-2029."
Increasing demand for smart systems and industrial automation systems is expected to drive the market during the forecast period.
During the initial lockdown stage, the market faced a sudden decline in its sales rate due to restrictions imposed by the government. Further, indoor air quality's increasing importance in avoiding breathing diseases is expected to increase product sales.
The government has uplifted several restrictions, which enabled the companies to resume the halted activities such as fixing air-conditioned units, repairing existing energy recovery ventilators, and changing the operation of such equipment. These factors have supported the North America HVAC system market growth during the pandemic.
For more information, visit www.fortunebusinessinsights.com/north-america-hvac-system-market-106243.