Archive
HVAC
Product News
New Viega Hydronic Mixing Block Makes Wiring, Piping and Programming Radiant Heating Systems Easy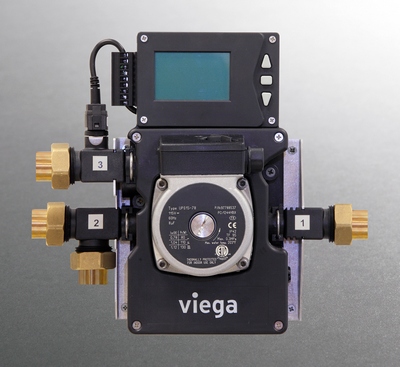 WICHITA, Kan. – The new Viega hydronic mixing block simplifies wiring, piping and programming for radiant heating systems. It is a user-friendly and economical solution for controlling radiant heating systems. The first of its kind, the mixing block combines mixing, control, air elimination and a circulator in a single, simple unit that makes wiring, piping and programming easy.
The mixing block features three connections for simple installations, with clearly labeled fittings and ports.
"Piping and controls are often the largest obstacles for installing radiant systems," said Dave Desjardins, Viega ProRadiant product manager. "The hydronic mixing block removes the obstacles with increased functionality, minimized settings and easy connections for piping and wiring."
Installing is an easy process. The installer inserts the fittings, mounts the unit into the bracket and then ties it into the system.The block's control offers an intuitive menu structure for quick, simple programming without sifting through multiple menus.
The mixing block is covered by a two-year Viega warranty.