Archive
HVAC
Product News
Energy Costs Controlled for Commercial Buildings with Integrated Lighting, HVAC Automation System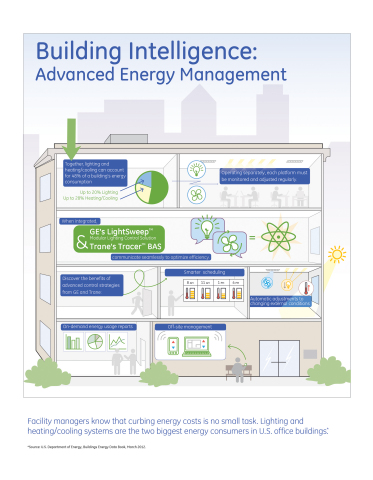 EAST CLEVELAND, Ohio — Building owners looking for strategies to control costs for the largest consumers of energy in commercial buildings – heating, ventilation and air conditioning systems and lighting – now have a new solution. GE Lighting and Trane, a brand of Ingersoll Rand, are announcing a new way for building owners to apply advanced control strategies for lighting, heating and cooling operations with solutions backed by well-known names in the industry.
GE's LightSweep Modular Lighting Control Solution can now be seamlessly integrated into the Trane Tracer centralized building automation system ― giving users an integrated approach for implementing advanced control strategies across lighting and HVAC systems.
"Building owners and managers want one easy-to-use system to monitor and control the two biggest energy costs for commercial buildings — HVAC and lighting," says Jaime Irick, general manager for GE Lighting North America Professional Solutions. "By integrating GE's LightSweep solution into the Trane Tracer system, the whole is more than the sum of the parts and offers a window into improved energy management practices for facility professionals."
GE's LightSweep Modular Lighting Control Solution allows 'on-off', dimming, group control and scheduling capabilities for indoor and outdoor lighting systems. With the tight connectivity to Trane Tracer, building managers can perform all of these functions and pull energy usage reports remotely from a web browser. This same platform is compatible with heating and air conditioning controls, as well as other building systems.
Built on a modular platform, LightSweep allows for seamless upgrades to meet the changing lighting control needs of a small office or global retailer. Simple snap-in control modules can be factory pre-installed in panels or field installed ― either in existing panels as expansions or in remote locations for localized control.
LightSweep's CLCBnet controller provides integration with a building management system using the BACnet protocol. This controller also provides remote programmability and control, either through dedicated software or via a web browser.
Trane's Tracer BAS is a high performance building automation system based on open standards that integrates building systems for maximum operational and energy efficiency. The feature-rich system has full mobile capability to allow access and operation of the system from any laptop, tablet or smart phone. Recently released smart phone applications put system control in the palm of the user's hand.
"Building owners have told us they are looking for one system rather than several stand-alone systems to manage energy use and comfort," said Dave Regnery, president of Trane North America. "This new Trane solution makes it easier for owners and managers to create an intelligent building — one that integrates its systems in order to optimize performance."
With this connectivity, building managers are able to monitor lighting and HVAC schedules to ensure optimum energy efficiency. For example, if an office uses sensors that are aware when occupants use a certain space, managers can, in turn, use the software to monitor and analyze exactly how often the space is used. These capabilities can help facility professionals better determine if the office space needs to be expanded or repurposed for better utilization.
For more information about intelligent, integrated lighting controls and the LightSweep/Tracer centralized building management solution, visit www.gelightingcontrols.com.