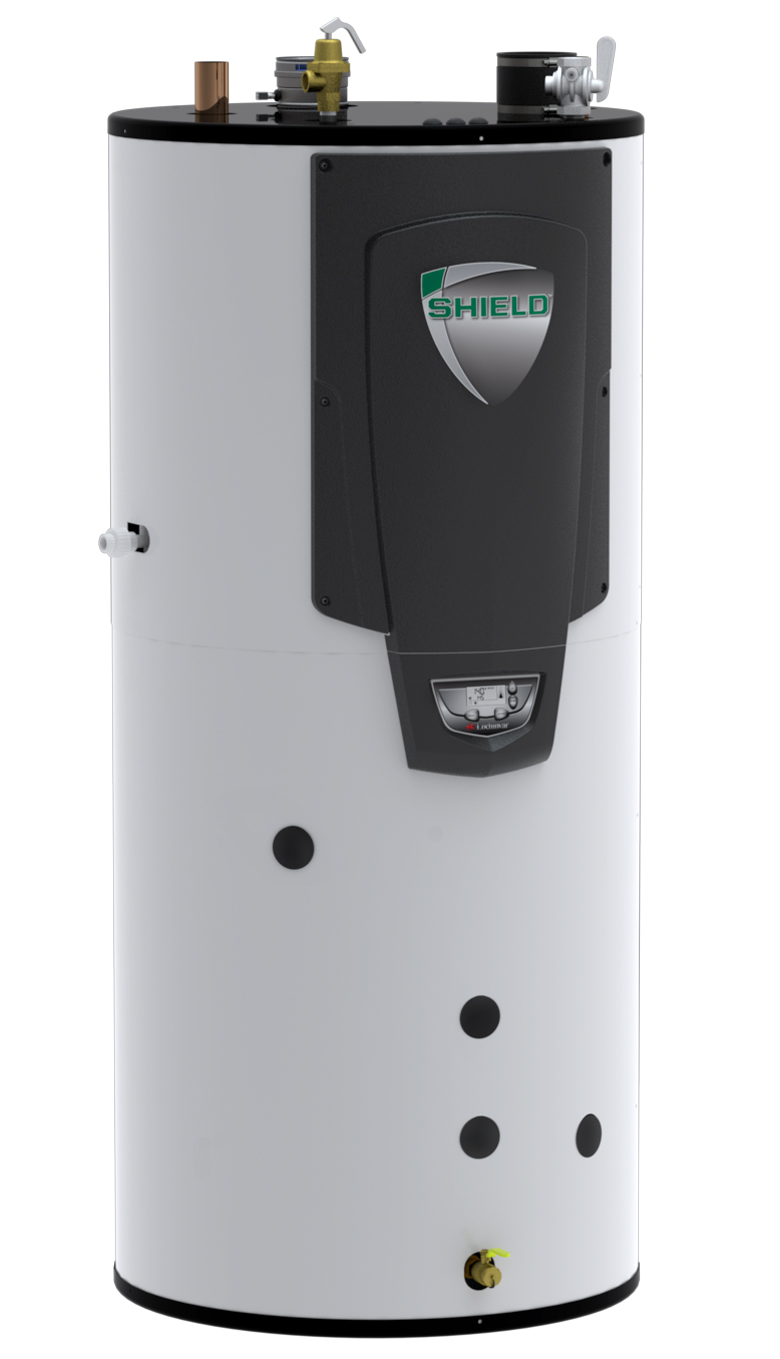 LEBANON, Tenn. – Lochinvar  has unveiled the re-engineered SHIELD commercial water heater.  Originally introduced in 2008, SHIELD features a unique design that allows for thermal efficiency of up to 96 percent without the risk of lime scale buildup inside the tank.  The updated SHIELD line now includes three additional models, extending the offering from 125,000 Btu/hr to 500,000 Btu/hr, and an extensive list of upgrades that are all designed to improve performance, accessibility and – ultimately – customer satisfaction.
Extended models
The three new models include the introduction of the 125,000 Btu/hr unit, which offers storage of 65 gallons, and two new ASME versions of existing sizes.  Both the 150,000 Btu/hr and the 200,000 Btu/hr models are now available in ASME construction, as well as the original standard construction.
Enhanced design
In addition to the expansion of the line, Lochinvar has implemented numerous updates to improve the design and overall performance of SHIELD. Providing easy access areas for simplified installation, all of the water, gas, air and vent connections are now located at the top of the unit.  This key enhancement allows for an improved fit and increased flexibility, adding new options for installation footprints.
Easier control
To further simplify installation and service, the integrated control board on the unit has been relocated to the front of the appliance. This new positioning allows for easy access behind the bezel on the front of the unit.  In addition, several key control operations have been added to the interface.  Among these new additions are password security, adjustable pump delay and the ability to enable contacts from the control module.
Efficient, effective operation
Despite all of the strategic updates and enhancements to the SHIELD line, there are many proven features that remain the same.  For example, SHIELD is equipped with the industry's most advanced stainless steel heat transfer system located outside of the tank, ensuring the same high efficiency and low operating costs throughout its life cycle.  Utilizing a fully modulating burner with 5:1 turndown, SHIELD can fire as low as 20 percent of maximum input when demand is lowest, and increase to 100 percent for peak-demand periods.  This results in better overall efficiency and less cycling compared to "on-off" tank-type units that can only fire at full force.
"Our goal is to provide products that offer our customers low-maintenance operation and high-efficiency performance," said Stirling Boston, director of marketing.  "We've heard a lot of great things about SHIELD since its introduction, but we've also heard about areas that could use improvement – so that's exactly what we did. We're excited to offer our industry partners a smart new solution that has been redesigned to meet their needs."
For more information, visit www.Lochinvar.com.