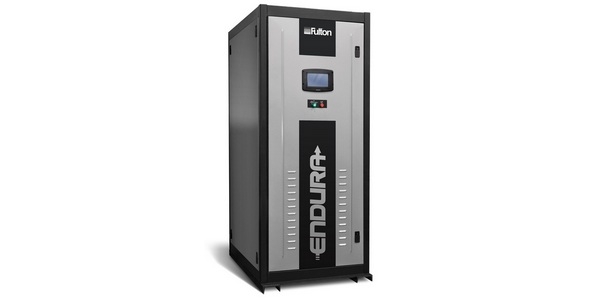 PULASKI, N.Y. — Fulton Companies has released a new line of condensing hydronic boilers. The Endura boiler is the latest addition to Fulton's diverse product offerings for the commercial heating market. Offered in sizes 1,500,000 BTU/hr (EDR-1500) and 2,000,000 Btu/hr (EDR-2000), the Endura is a vertical firetube-design boiler with a compact footprint. It features a high-quality, duplex stainless steel three-pass heat exchanger with enhanced fireside surfaces, and offers less than 20 parts per million NOx emissions, full input with 4-inch wc incoming natural gas pressure, 120V single-phase power supply, up to 8:1 turndown and has been Air-Conditioning, Heating, and Refrigeration Institute -certified at 93.5 percent efficiency for the EDR-1500 and 93.7 percent efficiency for the EDR-2000.
The Endura provides commercial heating customers with a premium option in these size ranges regarding product design, performance and flexibility in applications, according to Erin Sperry, Fulton's Commercial Heating product manager.
"The Endura builds further on Fulton's reputation for providing rugged, robust and reliable products," Sperry said. "Fulton's 25 years of experience in the commercial condensing hydronic boiler market facilitated key decisions regarding overall product design for the Endura."
Endura is slated for full production in North America in 2014.
The Endura boiler is equipped with a color touchscreen display with extensive capabilities, including Building Management System communication and integrated sequencing for up to eight boilers.
Endura maintains Fulton's fundamental design approach to provide simple installation, serviceability and maintenance, including removable latched panels and flexible arrangements for installation. There are no minimum water temperature requirements, dedicated circulator pumps, flow switches or temperature controls valves required.
Additional Fulton products for the commercial heating market include:
The Caliber, a condensing, lightweight commercial hydronic boiler with less than 20 ppm NOx emissions.  The product line features a stainless steel heat exchanger designed for hydronic heating applications. This boiler is equipped with a variable speed premix combustion system capable of a 5:1 turndown, and features a stainless steel heat coiled water tube heat exchanger, operation with 4-inch wc incoming natural gas pressure and a color touchscreen display with integrated sequencing (lead/lag). Caliber is available in the following model sizes: CAL-300 (300,000 BTU/hr input), CAL-500 (500,000 BTU/hr input), CAL-750 (750,000 BTU/hr input) and CAL-850 (850,000 BTU/hr input). It offers a neatly organized electrical cabinet, high quality cabinet design, easy access to mechanical and electrical components for service and maintenance.
The Reliance high-efficiency hydronic boiler, which features fiber mesh burner technology for even flame distribution and low emissions, 5:1 turndown capabilities and a variable-speed blower motor. The Reliance has a copper-finned tube heat exchanger and stainless steel heat exchanger jacket. It is designed for non-condensing heating applications. The Reliance product line range is 750,000 BTU/hr through 2,000,000 BTU/hr.
The Vantage condensing hydronic boiler, which was recently expanded to include a 5,000,000 and 6,000,000 BTU/hr model.  Fulton's proven Vantage line offers traditional fire tube design and diverse burner configurations for ultra-high efficiency hydronic heating applications. The 6-million BTU/hr model joins the Vantage 2 million, 3 million and 4 million offerings on the product line, including low emissions and dual fuel options.
The Pulse condensing hydronic boiler is Fulton's compact, high-mass, vertical firetube condensing boiler featuring the industry's lowest electrical consumption – only 90 watts during run mode. Pulse requires no power burner or blower motor, generates more heat per square inch than conventional processes and provides years of worry-free operation. Low emissions models are available in <30 ppm NOx, as well as dual fuel (natural gas and propane).For additional information about Fulton and its products, or to locate a sales representative near you, visit www.fulton.com.