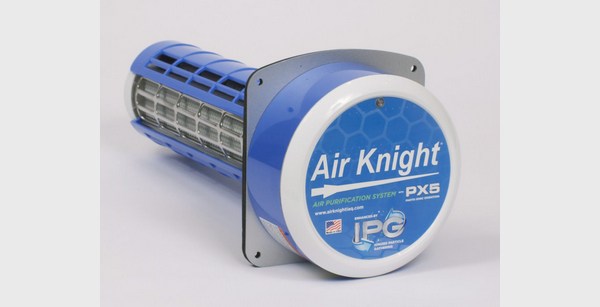 ORLANDO, Fla. — Carrier Enterprise announced the release of Air Knight Generation II, the latest incarnation of its industry-leading air purification solution. Manufactured for CE by Dust Free LP, the Air Knight Generation II product line includes a host of new features and benefits, resulting in improved indoor air quality and greater HVAC efficiency, as well as easier installation and maintenance.
Central to the design of CE's new line of Air Knight products is the PX5 Quint Metallic Matrix Core, which is comprised of five metals — rhodium, titanium, silver, copper and platinum. The unique properties of each metal have been combined in this proprietary design to provide substantial benefits, including a quicker reaction process that forms hydroxyl radicals and superoxide ions, as well as an enhanced ability to convert nitric oxide into nitrogen and oxygen. Air Knight Generation II also comes with an IC chip design in the power supply, which allows for digital control of the lamp current.
The best-in-class Air Knight IPG leads the Generation II series with new ionized particulate gathering technology. The IPG houses an advanced power module with bi-polar ionization that can create both positive and negative ion outputs, creating a charge that leads to conglomeration of particulate matter. The enhanced circular surface area of the core also features eight times more photocatalyst than previous designs.
"As governments around the world work to draft new indoor air quality regulations, CE stands committed to leading the way in the field of air quality and HVAC innovation," said Douglas Mackemer, director of parts, supplies and specialized equipment for Carrier Enterprise. "This commitment led to the development of the next generation air purification technology that is packed into the new line of Air Knight products, and we look forward to rolling them out to the global HVAC community."
In addition to the IPG, CE's Air Knight Generation II is available in 5 inch and 9 inch models, as well as ETAC and PTAC versions. All models are designed with an improved mounting design that allows for easy installation, and maintenance time of less than 10 minutes. Enhanced safety measures feature an interlock switch that turns off when the unit is removed from the mounting plate.
For more information on Air Knight and other Carrier Enterprise solutions, visit www.carrierenterprise.com.