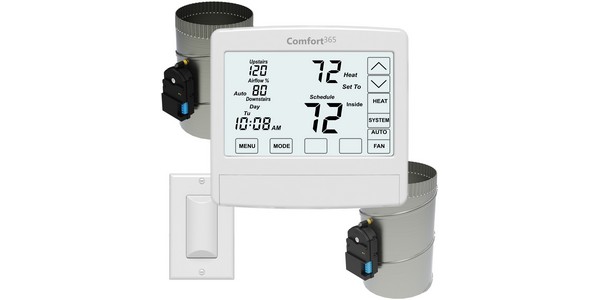 LAGUNA HILLS, Calif. — eControls has introduced a touch, programmable thermostat with airflow control that will improve comfort throughout the home in all seasons without the use of a zoning panel. The Comfort365 thermostat ([patent pending) works the same as any programmable thermostat by controlling heating and cooling calls but also automatically or manually directs more airflow to the upstairs during the cooling season and more airflow to the downstairs during the heating season so that the upstairs and downstairs are cooled or heated at the same rate.
The Comfort365 is a programmable thermostat featuring a high-definition touch screen and multiple equipment and thermostat modes for gas/electric and heat pump equipment. The thermostat is installed downstairs using the existing wiring to the system. A temperature sensor is installed upstairs and dampers are installed to control the airflow to the upstairs and downstairs. The thermostat monitors the upstairs and downstairs temperatures during calls and adjusts the damper positions and airflow as required to provide uniform heating and cooling. The nighttime airflow option saves energy by using the upstairs temperature sensor to control heating and cooling calls and directing more airflow upstairs where the bedrooms are located and less airflow downstairs.
For residential new construction applications, the Comfort365 wired version features terminals for connecting to the upstairs and downstairs dampers and the upstairs temperature sensor. The wireless version for replacement applications features wireless communication to the wireless temperature sensor and wireless dampers. Both wired and wireless versions operate identically and can be easily upgraded to Wi-Fi models by simply unplugging the non-Wi-Fi model from the sub-base and plugging in the Wi-Fi model. Installer options include the ability to test and set the maximum allowable airflow limits in heating and cooling calls for both the upstairs and downstairs to achieve maximum comfort while taking into account noise and comfort considerations.