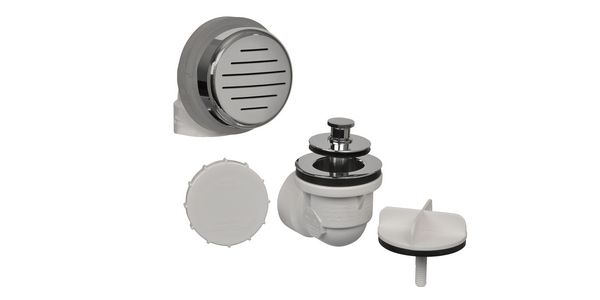 COLLIERVILLE, Tenn. – IPS Corporation has released its new and improved, patent-pending AB&A Classic High-Flow Waste & Overflow, an exclusive design that provides additional value to the homeowner while maintaining a tool-less installation.
The newly designed, high-flow capacity Classic Overflow cover plate is slotted to provide greater drainage through the tub overflow. This allows the water to drain from the overflow at twice the rate of most commercially available overflows. As always with Classic, installers can easily secure the overflow elbow, gasket and cover plate to the tub without the use of a screwdriver or screws and a test kit is included in every rough-in, half or full kit. The Classic series will continue to be offered in the following kits: full, half, rough-in, trim, finish and press-in. In addition, all Classic kits will include an additional gasket to be used on thick-walled tubs.
For more info, visit http://www.ipscorp.com/pdf/IPS_catalog.pdf.