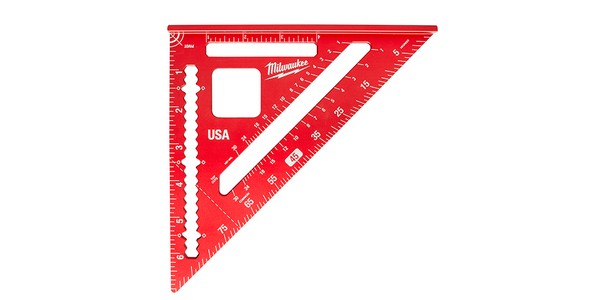 Milwaukee Tool releases its first line of MEP focused framing and rafter squares. Designed from the ground up to address common user frustrations, the new Milwaukee Squares are built to provide superior durability and versatility. The squares include features unique to the industry such as scribe notches on the framing square and a magnetic heel on the rafter square.
The 7-inch Magnetic Rafter Square is built with rare earth magnets in the heel which provide a secure hold on all ferrous surfaces and the 1-1/8-inch heel provides more grip while working with rounded stock. The tool also has the most precision scribe notches (1 inch-6 inches) of any rafter in its class, as well as a 1-inch pipe cutting jack. This feature is new-to-world for rafter squares, helping to elevate and tightly hold materials such as conduit, copper and rigid pipe during cuts. The square is also made with more aluminum for extreme durability. This is the only rafter square truly designed for steel stud framers and MEP contractors.
The 16-inch by 24-inch Aluminum Framing Square is constructed of more aluminum, reinforcing the frame and delivering the durability of steel but keeping it lightweight. The aluminum also helps the square resist rust. This square is also the first framing square to feature precision scribe notches for marking in ½ inch and ¼ inch increments. Highly visible laser-etched markings will not wear off, providing trusted accuracy throughout the life of the square.
Made in the USA, the new Milwaukee Framing and Rafter Squares are backed by a Limited Lifetime Warranty.