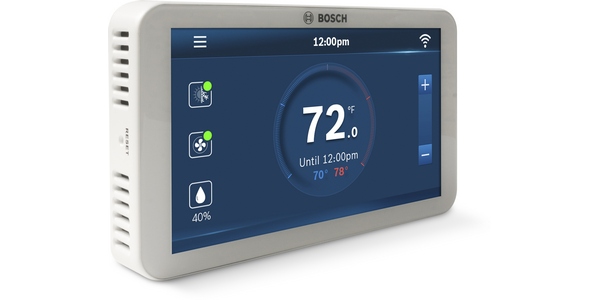 LONDONDERRY, N.H. – Bosch Thermotechnology Corp. has expanded its extensive with its new Bosch Connected Control (BCC100). The BCC100 is a full-color, 5-inch, touch-screen thermostat that brings convenience and functionality to the home with Wi-Fi connectivity, allowing remote monitoring and control of home HVAC systems.
The Bosch Connected Control saves energy and money by automatically turning the heating and cooling on and off to maintain temperature while homeowners are out of the house. The BCC100 is programmable, giving users the option to either follow factory-loaded presets or create their own, personalized schedule. Its intuitive scheduling menu helps maintain the most comfortable environment, with a dedicated terminal for humidifying or dehumidifying functions. The BCC100 is compatible with the majority of HVAC systems on the market.
Additionally, the BCC100 app allows users to monitor and control all of their thermostat settings remotely. Users can adjust the schedule on the go, or set it to "vacation mode" to save energy while they are away. With the BCC100's ability to display local weather forecasts, users can plan ahead and program accordingly.
With the free BCC100 app, available with any compatible iOS and Android device, users can connect to an unlimited number of thermostats and manage up to four schedules per thermostat. While the thermostat is Wi-Fi accessible, it's also designed to allow offline access.
For more information, visit http://bosch-climate.us/bcc100.