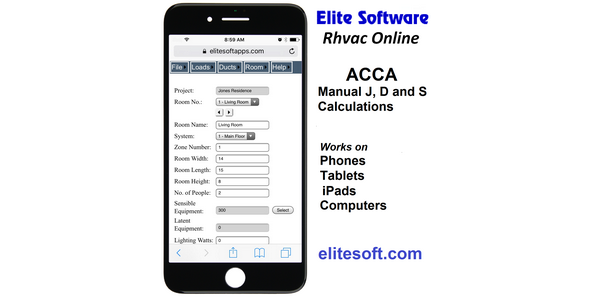 Elite Software's RHVAC Online web app works on all smartphones, tablets (including iPads) and computers with internet access. It performs ACCA Manual J load calculations, Manual D duct sizing and Manual S equipment selections. RHVAC Online has everything you need to comply with the latest International Residential Code requirements.
Design weather data for over 2,000 cities are built into the software. Thousands of Heat Transfer Multipliers for all the walls, windows, doors and roofs listed in Manual J are automatically looked up by the software. All modern construction materials such as spray foam are included and additional construction materials are easily added. HVAC equipment can be selected from over two million models from over 250 manufacturers and are included at no extra charge. Comprehensive reports list Manual S equipment information, Manual D duct system sizing, a total building load summary and a room load summary for each zone and system complete with heating and cooling CFM values.
Projects are saved in the cloud and unlimited file storage is provided. Projects can also be imported and exported to Elite Software's popular RHVAC desktop software. Full phone and email support is provided. Call 1-800-648-9523 or register for a free trial version at www.elitesoft.com.