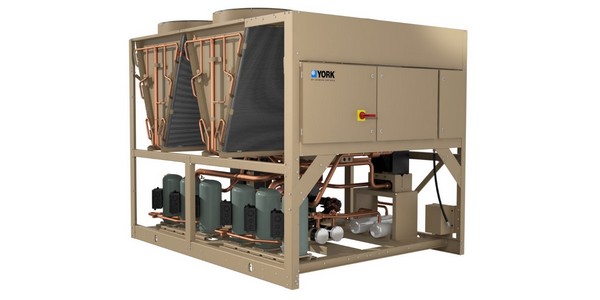 MILWAUKEE, Wis. – Johnson Controls has expanded its YORK line of YLAA Air-Cooled Scroll Chillers up to 230 tons. The extended capacity of the YLAA offers a more cost-competitive solution to 230 ton opportunities without sacrificing size, quality and efficiency.
With the smallest footprint in the industry, the YLAA (55-230 tons) offers full-load and part-load efficiencies that meet or exceed ASHRAE standards. Available from stock and shipped to locations in the United States within 2-5 days or made to order options now include variable speed drive condenser fans to further enhance part load efficiency and sound, as well as integral pump packages to offer a single purchase, shipment and install solution.
The scroll compressors have proven reliability and the units are equipped with two independent circuits for partial redundancy. They also feature a brazed plate heat exchanger, microchannel condenser and native building automation system communications, including BACnet, Modbus and N2.
For more info, visit: www.YORK.com/YLAA.