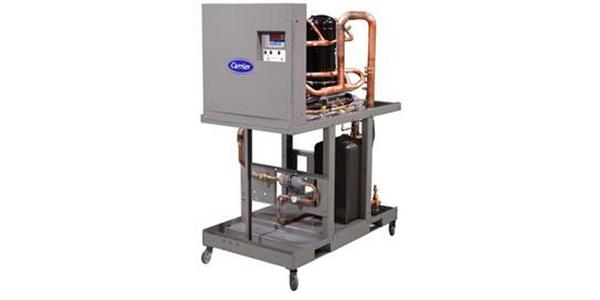 CHARLOTTE, N.C. – Designed for faster, less expensive installation in high-rise applications, Carrier's latest version of the slimmed-down AquaSnap 30MP chiller now meets all ASHRAE 90.1 efficiency requirements. Additionally, certain model sizes accommodate the 15 horsepower per circuit regulation common in many large cities, eliminating the need for costly 24/7 support. Trim enough to fit through a standard size door or elevator and boasting a modular design that can be easily connected to provide greater capacity, the 30MP is Carrier's answer to the challenge of providing climate control in tough-to-reach spaces.
The 30MP can be piped together in-line, which can also help significantly reduce the first cost of any installation in new and retrofit applications while providing up to 560 tons of cooling.
Additional 30MP features and options that can uniquely enhance HVAC system performance include a digital compressor, separate multi-unit controller, single-input power to electrical distribution panel and a remote air-cooled option.
For more info, visit: Carrier.com/30MP.