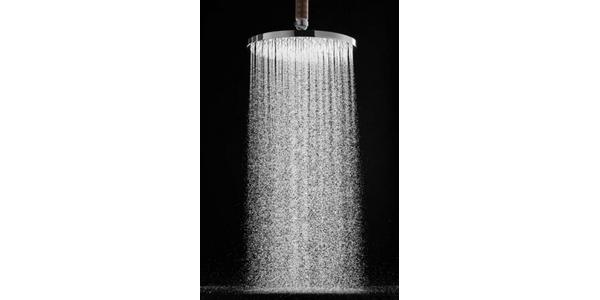 ALPHARETTA, Ga. – Hansgrohe has launched a new PowderRain spray technology. The innovative spray mode is characterized by sumptuous yet efficient micro-fine droplets. It also delivers exceptional acoustic performance. PowderRain is now available in a range of overhead and handheld showers from the hansgrohe brand including the Raindance S 240 with PowderRain Showerhead, Raindance S 180 with PowderRain Showerhead, as well as a Raindance Select S 120 with PowderRain Handshower.
PowderRain spray is much finer than conventional shower jets. Instead of only one spray outlet per nozzle, PowderRain spray has several fine openings. The droplets are so light that they fall gently on the skin without bouncing off. This automatically reduces splashing and retains warmth on the skin—a great advantage in open showers. The sprays are arranged more densely as well, which intensifies the effect.
The Raindance S 180 P showerhead is available in either 1.75 gpm or 2.0 gpm versions, while the Raindance S 240 P has a flow rate of 2.5 gpm. To meet a wide range of environmental codes, as well as user preferences, the Raindance Select S 120 P Handshower is available in 1.75, 2.0 and 2.5 gpm versions. Available finishes include chrome and brushed nickel.