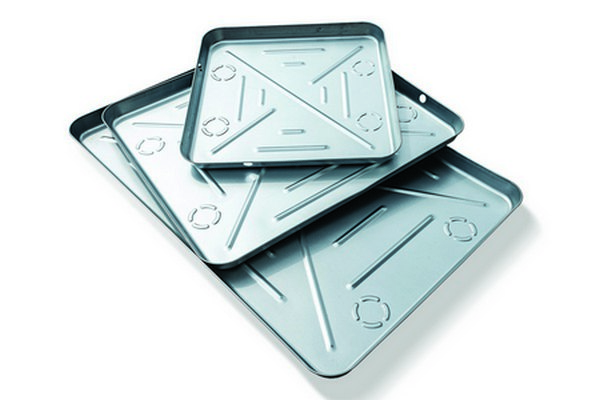 RectorSeal introduces the Titan Metal Series of HVAC air handling and furnace secondary drain pans for preventing residential and commercial property-damaging condensate overflow in the North American HVAC markets.
The Metal Series addition to the Titan product line's Flexible Series DexElar resin models now offers a comprehensive selection of secondary drain pan styles and sizes that will now accommodate any local code mandate or HVAC/R contractor preference. The Titan Metal Series features 24 gallon seamless, one-piece galvanized metal construction with fortifying reinforcement creases/indentations and rolled edges, but offers better pricing and craftsmanship compared to most local metal custom fabrication shops.
Each pan offers drain line installation flexibility with a 3/4-inch-diameter drain outlet on the width and long sides and comes with a PVC cap fitting and a drain line female fitting, both that include a tight-fitting, pliable rubber washer. The Metal Series can be combined with RectorSeal's Safe-T-Switch or AquaGuard  drain pan condensate detection/cut-off switches that shut down the equipment to prevent property damage if a drain pan blockage occurs. It is also compatible with All-Access mechanical float switches, drain line cleanout devices and supporting condensate management accessories.
The Titan Metal Series has eight sizes that fit the majority of air handler and furnace brands and models: 24 by 36 inch; 26 by 26 inch; 30 by 66 inch; 32 by 36 inch; 32 by 48 inch; 32 by 62 inch; 30 by 60 inch and 30 by 30 inch.
Other Titan Metal Series benefits include:
Complies with the International Residential Code and International Mechanical Code mandates for secondary pans to prevent property water and mold damage caused by condensate overflow
Can be installed on a hung or floor-mounted air handlers and furnaces
Seamless, rolled-edge design eliminates sharp edges that can cut hands and snag clothing
One-year warranty
Nest-able design allows space-saving wholesale distribution storage stacking
Stronger and more durable than the HVAC industry standard 26 gallon metal drain pans
Like the Flexible Series, the Metal Series won't crack, split or rust
For more info, visit www.rectorseal.com/Titan.