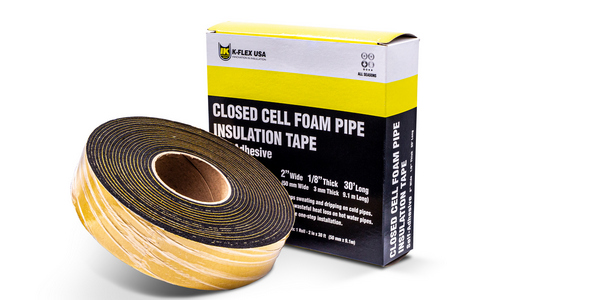 RectorSeal, a manufacturer and distributor of HVAC/R products, and part of the CSW Industrials, Inc. group of companies, has been named an approved master distributor for K-Flex Youngsville, North Carolina, a manufacturer of refrigerant lineset insulation and tapes for commercial and residential air conditioning and refrigeration systems.
The distribution relationship will initially comprise of three top-selling product lines manufactured by K-Flex, a 31-year-old, family owned business with 13 international plants and a marketing reach into 43 countries. RectorSeal will distribute the following products to traditional HVAC/R wholesale distributors in the U.S. and Canada:
Titan–a closed cell, elastomeric foam insulation with a flexible, co-extruded UV- resistant jacketing for linesets. Titan offers UV/moisture resistance with a tough and nearly impenetrable jacket that protects piping from outdoor elements, animals and lawn care string trimmers.
Foam Tape–a NBR/PVC-based, closed cell, elastomeric tape with a factory-applied pressure-sensitive adhesive that forms a long-lasting bond. It's perfect for short pipe runs or where tubing insulation is impractical to cover, such as covering fittings or valves.
Cork Tape–a 55% cork-filled, rubber-based insulating tape with a grainy, rubber-like consistency. It's also ideal for covering fittings and valves.
All three products and their energy-saving thermal dynamic characteristics comply with the International Energy Conservation Code and International Residential Code.
K-Flex's product lines complement RectorSeal's ductless mini-split, VRF/VRV and conventional air conditioning accessories.