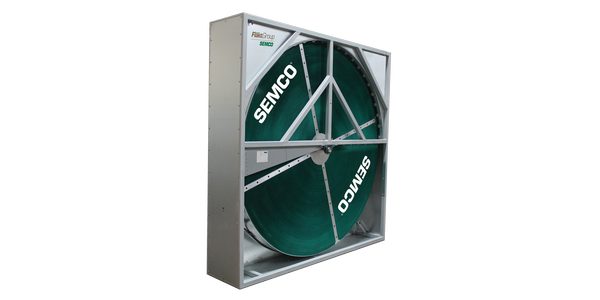 Due to the COVID-19 pandemic, FläktGroup SEMCO will be offering the True 3Å wheel as a replacement wheel or for any existing HVAC unit serving critical public spaces such as hospitals, nursing facilities and schools for the next five months. Regarding new projects in development that require energy recovery, FläktGroup SEMCO can provide solutions using True 3Å technology as a part of the design including a the manufacturer's fully packaged system.
The True 3Å wheel has the lowest contaminant carry-over rate at less than .045%, and was specifically developed to process airstreams like those that might include particulate containing concerning viruses. Its antimicrobial face coating is able to kill 96% of microbial activity upon contact.
The True 3Å wheel has proven to be successful in many applications such as the Johns Hopkins Koch Cancer Research Center, which has had 12 True 3Å wheels installed in its research laboratory facility for the last 20 years.
Aside from the wheel's anti-microbial properties, it also features the industry's highest AHRI-certified recovery performance and recovery efficiency ratios. The wheel's ability to recover latent energy in both the heating and cooling seasons reduces the need of costly humidification of ventilation air, as well as heating requirements of the indoor space. The True 3Å wheel allows facilities to bring in more outside air without increasing energy costs. These wheels are available every day in FläktGroup SEMCO systems and will be available for the next five months as replacement wheels in any HVAC unit serving critical facilities.
For more info, visit: www.semcohvac.com.