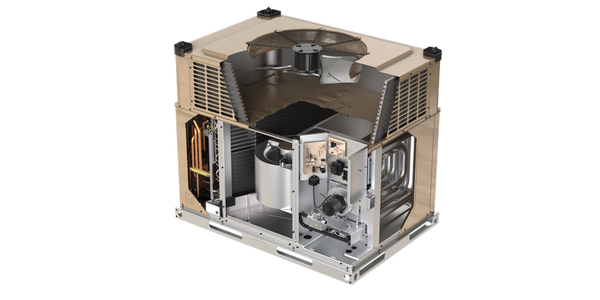 Johnson Controls is driving greater efficiencies in residential and light commercial markets with its launch of the next-generation of York Residential Package Equipment. The comprehensive AC and heat pump range is offered in both 14 SEER and Energy Star-certified 16 SEER efficiencies with electric or gas heating, providing affordable performance and reduced energy use compared to older models.
York Residential Package Equipment works alongside other Johnson Controls HVAC products and solutions to help make buildings more safe, secure and sustainable.
The redesigned blower was engineered to bring quicker comfort and advanced air distribution to improve indoor air quality and enhance wellness. In addition, the advanced fan design and vibration-reducing technology minimize noise to provide quiet comfort year-round. These units are also thoughtfully designed with individual access panels and front-facing connections, simplifying installation and maintenance. Units also offer industry-leading warranties with a lifetime limited heat exchanger warranty, 10-year parts and compressor limited warranties and a one-year labor limited warranty.
For more information, visit www.york.com/Residential-Equipment/Heating-and-Cooling/Residential-Packaged-Equipment.