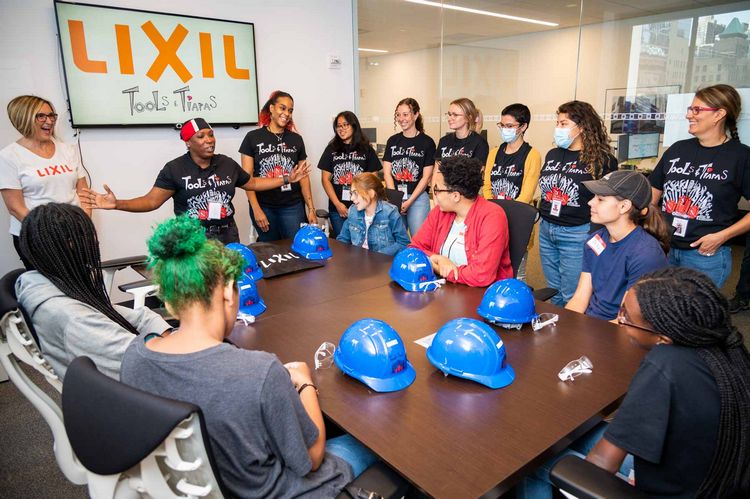 LIXIL Americas recently partnered with Tools & Tiaras Inc. to sponsor a plumbing-focused workshop as part of the multi-day summer camp designed to introduce young girls and women to the skilled trade industry. Tools & Tiaras is an organization dedicated to advancing the interest of young girls and women who want to pursue careers in trade professions.
The initiative is one effort to help reduce the downward labor shortage trend in the skilled trade industry. For every five tradespeople who retire, only one enters the industry, and in 2020 only 2.3% of plumbers, pipefitters and steamfitters in the U.S. were women.
"We are committed to making a positive impact in the communities where we live and work," said Debbie Drury, leader, communications, LIXIL. "Knowing that plumbers protect the health of the nation, yet the number of people entering plumbing and trade crafts is on a steady decline, we believe it is our duty to support programs that encourage the pursuit of plumbing as a profession. It is particularly exciting to be partnering with Tools & Tiaras, whose purpose is to empower ambitious and determined young women to knock down the social barrier of entering these trade professions," said Drury.
The multi-day vocational camp featured female participants, ages 13-17, who were interested in learning more about the skilled trade industry. The plumbing workshop was one of several programs throughout the week designed to teach the girls about careers in the construction trades and STEAM through hands-on projects. The latest attendees were provided instruction and participated in a hands-on plumbing workshop led by Tools & Tiaras Founder Judaline Cassidy. Campers also had the opportunity to practice installing kitchen and bathroom faucets, provided by American Standard.
"As a woman in the plumbing industry, I've fought many of my own challenges with confidence and grit along the way," said Cassidy, a union plumber by profession. "I founded Tools & Tiaras to give back to my community and empower girls to develop the skills and courage to enter the trades themselves. I want them to know a career in the trades is both rewarding and possible, reminding them that jobs don't have genders."
For more information, visit www.toolsandtiaras.org.