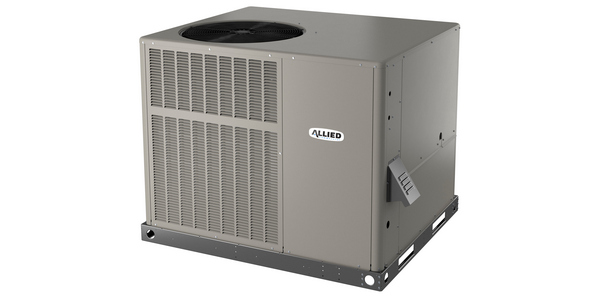 Allied Commercial recently launched its new Q-Series Line of 3-Phase, Packaged Rooftop Units to meet the high-performance demands of light commercial operations. The new line consisting of the QGA Gas/Electric, QCA Electric/Electric HVAC Systems and QHA Heat Pump was specifically engineered to accommodate both horizontal and downflow applications with plug-and-play designs that install quickly and easily even when replacing different brands.
With efficiency ratings of 14 SEER and 11.5 EER, and sizes ranging from 3 to 5 tons and 1,200-2,000 cfm, the entire Q-Series product line is designed with side and bottom connections, quick-connect electric connections and a factory-installed float switch to facilitate smooth installations without the need for special brackets.
This new series of packaged rooftop units include:
QGA Gas/Electric HVAC System, which provides an AFUE up to 81% as well as a 34,000 to 57,000 Btu/hr cooling capacity and 54,000 to 126,000 Bt/hr gas input heat output
QCA Electric/Electric HVAC System designed with a cooling capacity of 34,000 to 57,000 Btu/hr and optional electric heat range of 5 to 23 kW
QHA Heat Pump that offers a cooling capacity of 34,000 to 57,000 Btu/hr, heating capacity of 33,500 to 57,000 Btu/hr HSPF of 8.00 and optional electric heat range of 5 to 23 kW
Additional benefits incorporated into the Q-Series' gray steel cabinet are Microban* protection, which fights surface pollutants like bacteria or mold; built-in pest control; Quiet Combustion and Tri-Diamond technologies. Other highlights entail an optional, single-zone VAV supply fan technology, which can provide up to 61% in power savings over comparable units and 29% better moisture removal.
Available from distributors based throughout the U.S. and Canada, the Q-Series is supported by a 10-year limited warranty for the aluminum gas heat exchanger, a 5-year limited warranty for the compressor and a 1-year limited warranty on additional covered components.
To learn more, visit www.allied-commercial.com.
*Microban is a registered trademark of Microban International, Ltd.