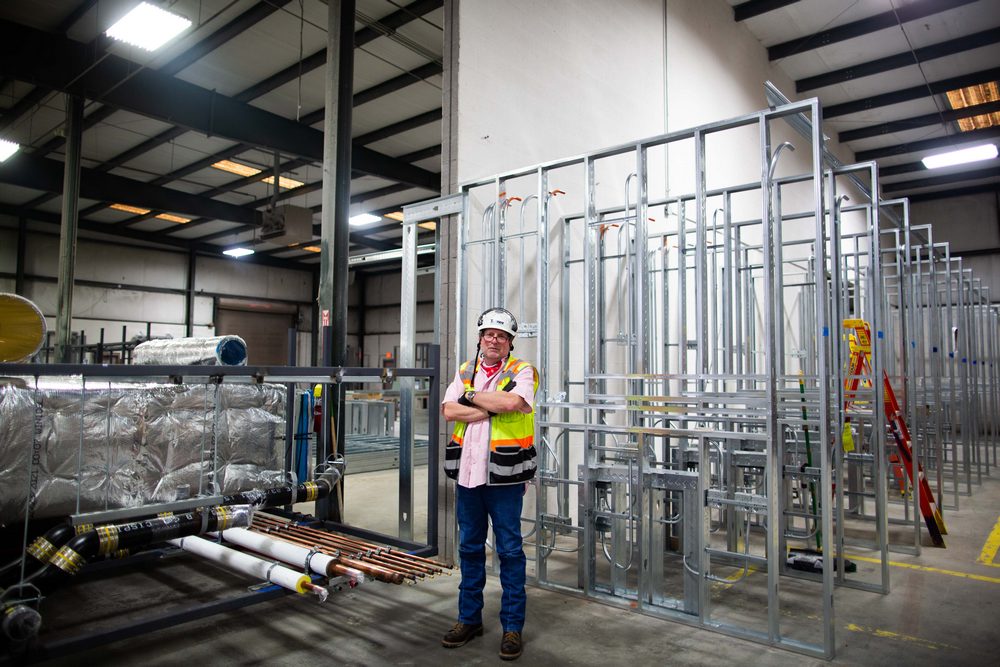 How prefabrication is providing multiple benefits on surgery center expansion project
Turner Construction Company's Nashville, Tennessee office recently built a prefabrication shop to support an ongoing expansion project for Ascension Saint Thomas Midtown's Surgery Center. Located roughly four miles from the project site, the facility is assembling headwalls, operating room walls, above-ceiling HVAC racks and scrub sink walls — all of which typically would be built onsite — in a controlled, offsite environment.
"Any project that has repetitive assets lends itself to prefabrication," said Buddy Varney, Turner's mechanical, electrical and plumbing superintendent. "It offers several benefits, including saving time on the schedule, providing a safer way to work and allowing better quality control and quality assurance because of the environment."
Prefabrication is the process of building repetitive components away from the project site, then simply delivering and installing onsite, versus having multiple trade partners trying to complete a building structure, while simultaneously fabricating and installing systems.
While prefabrication is gaining traction and is beneficial for a wide variety of commercial projects, healthcare is a key industry for it since most patient rooms have identical set-ups. And in regard to prefabrication of MEP components, success comes down to utilizing a combination of technologies.
Varney noted that for MEP trades in particular, prefabrication combined with virtual construction and design/BIM technologies is extremely beneficial.
"Due to the electronic media availability of our projects, multiple disciplines can overlay their scopes of work on a common background, which can be compiled into one electronic drawing. That will show all clashes of trades work, where two or more scopes of work are in the same space," Buddy said.
With prefabrication, it's much easier to understand these clashes and make adjustments to relocate scopes of work in an offsite environment as opposed to making them at the jobsite, where labor might have to be relocated and potential time on the schedule could be lost.
"All MEP trades have to work together," Varney said. "It's easier and more efficient to solve these problems offsite when they arise."
Varney added that one of the biggest impacts of prefabrication is shaving time off the project schedule. On a typical jobsite, all materials are being delivered to the same place and several trades are working at once, which can lead to delays and potential rework. By keeping everything separate, the process is streamlined, delays are reduced, the site is cleaner and work on both the structure and systems can be done at the same time.
In addition to schedule impacts, prefabrication is safer for tradespersons building the components.
"Instead of having to build the system on a jobsite, trying to hang things off the ceiling, they're able to do their work at eye-level with the rack sitting on the ground," Varney said. "This is safer for everyone, allowing for a more comfortable working position, as well as reduced injuries."
As for quality control, it is imperative that the proper QA/QC measures are implemented for the prefabrication process to be successful. The team at Saint Thomas Midtown project utilized an extensive, early 3D-coordination effort with trade partners, the design team and Turner. With the ability to import the coordinated model into drone scans of existing space conditions, it provided a high level of certainty that prefabricated parts would be built and installed efficiently.
No doubt, MEP prefabrication, as well as prefabrication in general, are areas that will see continued growth.
"There's been some really exciting conversations around it, and we're getting a lot of buy-in," said Varney. "People have been really impressed with the quality and workmanship we can achieve here."
Editor's Note: This article was provided by Turner Construction Company. If you have an interesting project or method to share, email mtennis@informpublishing.com.