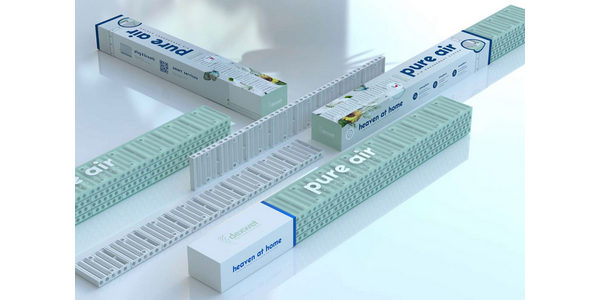 With students back in school, there's a heightened awareness about reducing the spread of germs, illness and airborne contaminants. To add an extra layer of protection, Bornblum Jewish Community School in Memphis, Tennessee became the first in the U.S. to install a new type of air filter technology created by Dexwet Pure Air Filters.
Dexwet Pure Air Filters are a true innovation in air filtration that allows the highest air flow stream to pass through a patented staggered rod system. These rods are coated in a non-toxic oil solution to permanently capture airborne particles of all sizes while allowing pure, clean air to flow through, making them ideal for classrooms and any other shared enclosed rooms. Dexwet's innovative wet filter design is also sustainable, as they are entirely silent, require no energy and can be washed annually for reuse.
During installation, Dexwet COO, Clemens Sparowitz, demonstrated how the patented filters use the scientific principle of turbulence and attraction to capture airborne dust, pollen and nano-fine particles such as bacteria and viruses in classrooms. The demonstration was part of a two-day learning module developed with teachers for the school's 6th and 7th-grade students.
Dexwet installed the filters at no cost into Bornblum's classrooms, bathrooms and the school office to celebrate the company's launch into the U.S. market. For more information, visit www.dexwetholding.com.